The Queen of Toilet Paper
By Jen Martin, November 27, 2012 03:22 PM
This is a guest post by Margot Seay. Margot is AARP's first National Volunteer Director.

Sarita McCaw of Walla Walla, Wash., can sum up her service passion in two words - "toilet paper." And her efforts around this humble commodity are making a real difference both for struggling families in her community and the organizations dedicated to their support.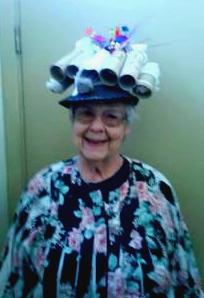 Why toilet paper, you ask? Despite being a core necessity, toilet paper, or "TP," is not eligible for purchase with food stamps. It's also often in low supply at donation centers and is surprisingly expensive - placing a heavy burden on the food banks, aid centers and shelters that constantly strive to meet community needs.

When Sarita, now 81, learned about the problem from her church pantry and a charity called HelpLine, where she's been volunteering for years, she took immediate action.

First, she began purchasing the toilet paper at wholesale to help them save a few dollars quickly, but she knew there had to be a better way to get this basic need met at a lower cost. She worked with Crown Paper, a local janitorial supply company, who agreed to help Sarita and HelpLine by selling the pallets of paper "at cost." A savings of more than $300 per pallet!

Still not satisfied, Sarita has made it her personal mission to raise "TP" dollars - exchanging toilet paper donations rather than presents with friends and family members and getting the larger community involved. Since last December, she's helped fund six "TP" pallets (of 2,400 rolls each) and is well on the way to a seventh! HelpLine Executive Director Daniel Willms could not be more grateful. "We're wiping out poverty one roll at a time."

Sarita never loses her sense of humor. The self proclaimed "Queen of Toilet Paper" occasionally dons a "TP" crown when pitching for donations, and writes donors personal thank you notes on the inner tube of toilet paper rolls. "When you get to be 80, you can have fun with what you're doing."

Her advice to others? "Look for one thing you can do, rather than trying to solve all of the problems in your town. Ask what you would hate to be without, and see if you can be part of the solution."

For opportunities to solve the problems in your own community go to Create the Good.