Market Day - Bringing Polio Immunizations to the People
By Jen Martin , March 27, 2013 10:00 AM
This is a guest post by Philip L. Graitcer and the fourth in a five-part series about a group of dedicated Rotary volunteers helping to eradicate polio in Kaduna, Nigeria.
Today is one of Nigeria's Polio Plus Days. These are days when there's a big push to go out and bring polio immunizations to the people. We're going to the Monday Market - one of the largest outdoor markets in this part of Nigeria. Everyone comes here to get their supplies - from fruits, vegetables and meats, to clothing, building supplies and car parts. There will be thousands of people and hundreds of kids.
Our team had a new addition - a town crier. She's Miriam Dima, about 4'8" tall, dressed in a African print wrap, a green shawl and a light blue apron with " Immunization Is Safe and Effective" printed on it. She's carrying a battery-powered megaphone. As we walk through the market, she speaks in the local Hausa language - her amplified voice carrying across the market.
"Good morning, good morning. Come closer for immunization. How many children have not been vaccinated? Bring them close. Immunization prevents sickness. Children are the future of tomorrow. May God bless us."
As we snake through the crowds, we're on the lookout for infants in their mothers' arms or strapped to their mothers' backs. They might be eligible for a polio immunization. We look for an ink mark on the fingernail of the child's left hand pinky, a sign that the child was immunized. If there isn't a mark, the child is unvaccinated.
The market was so crowded we could hardly walk, but remarkably, there was little pushing or shoving. The crowds just part - like Moses and the Red Sea - as we walked through. In a couple hours we gave 400 immunizations.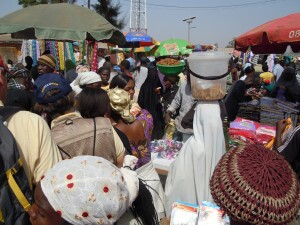 Photos by Philip Graitcer
Graitcer is an independent radio producer based in Georgia. His stories have been heard on NPR, The World, Studio 360, and VOA. This is his fourth career - he's also been a medical epidemiologist at the U.S. Centers for Disease Control, a university professor, and a bicycle tour leader in Europe. His most recent radio stories can be heard on the website. You can follow him on Twitter at @radio_phil.
To learn how to volunteer for a Rotary polio trip, contact your local club or Rotary International.
For part 1 of the series, click here. Part 2 here. Part 3 here. Check back for the final part of this series next Wednesday.
Also of Interest

Join AARP: Savings, resources and news for your well-being
See the AARP home page for deals, savings tips, trivia and more