One Man's Secret to Playing a Great Santa
Edward Lacy, 56, has a secret identity.

Once a year, Lacy transforms into a superhero more powerful than Superman and Batman combined. Without a cape or Batmobile, he flies around the globe in 24 hours, squeezes down chimneys and visits every child in the world.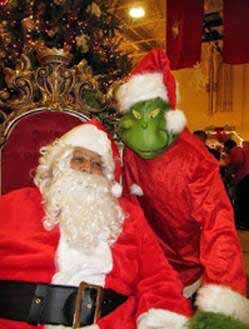 Yes, Lacy is Santa Claus for the Alexandria Redevelopment and Housing Authority in Virginia. The rest of the year he's the authority's ombudsman.

A week before Christmas, I play elf to Lacy's jolly St. Nick during the ARHA's "Santa's Winter Wonderland," an annual holiday event for more than 1,000 low-income and public-housing children. Derek McDaniel is there, too, as Santa's nemesis, the Grinch.

>> Find Volunteer Opportunities at Create the Good

The kids line up for blocks outside the Charles Houston Recreation Center waiting for Lacy's rock-star entrance atop a city fire truck. They squeal in awe as he shakes their little hands on his way to his crimson velvet Santa chair. And they lustily boo the Grinch.

Dressed in a green velvet tunic, red and green-striped tights and black, pointy elf shoes, I post myself near Santa to give each child a stuffed animal and a gift donated by Toys for Tots, corporate sponsors and private donors.

And I watch the kids line up to sit on Santa's lap. Some are excited. Some are shy. A few take a flying, joyous leap into his arms. One or two of the tiniest ones melt down in terror. A few little girls wear party dresses.

Lacy is patient with every child, as he has been throughout his 10 years as Santa. He listens to the last child's Christmas wishes with the same intensity he gives to the first child.

"I do it for the kids," he says.

Images of the day stay with Lacy the rest of the year. "There's nothing like that in the world," he says softly. "Nothing."

As Santa and the Grinch listen to Christmas wishes, they know that the presents and candy canes that I give the kids are, for many, their only presents this holiday season. And while parents thank Lacy throughout the year, so far his secret life remains intact. His cover was almost blown only once, when his three-year-old grandson recognized him.

Two hours after we start, I hand out the last stuffed animal. Santa hugs the last happy child. Parents take the last selfie. It's all over until next year.

>> Help End Senior Hunger Today

What traits make a good Santa? I ask him.

"Caring, good spirited, joyful, jovial, willing and giving," Lacy answers thoughtfully.

"And a strong right knee."

Photo: Alexandria Redevelopment and Housing Authority













Also of Interest



See the AARP home page for deals, savings tips, trivia and more.