Tornado Hits Joplin, MO: How You Can Help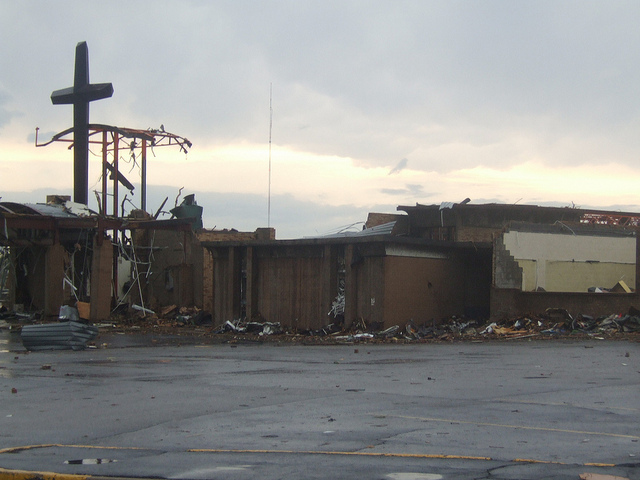 I made my way back down to the foyer and opened the door to look out. There was hail now, and a dark, cold rain, and utter devastation all around. While it shouldn't have surprised me, it did: that I was not alone, that all my neighbors had suffered the same, that their roofs and walls and things were all gone, too. And it began to dawn on me that some might be injured, even dead, and that I might actually be among the fortunate, and that, as such, I needed to do something for those who had not been so lucky. - Jeff Lehr, Joplin Globe staff writer. (Read the rest here.)

I moved to Kansas City when I was ten years old, and Joplin's right down 71 Highway from where my parents still live. The photos on this page look like your usual Ozark town - brick buildings, church spires - but turned upside down, like a child stomped on a LEGO castle.

Today, I'm thinking about Joplin - its people, its emergency responders, the gorgeous and brutal brick facades that crumbled last night onto the victims. Looking for ways to help? People are organizing on Facebook here; you can call the Red Cross in Mid-Missouri at 1-800-427-4626 to volunteer or to learn how you can help.

St. Mary's Catholic Church was destroyed by the EF4 tornado that hit Joplin on Sunday, May 22. Photo courtesy of the Springfield-Cape Girardeau Catholic Diocese via the Missouri Department of Public Services.