Jackie Collins: The Woman Knew from Fame!
By Fannie Weinstein, September 22, 2015 05:38 PM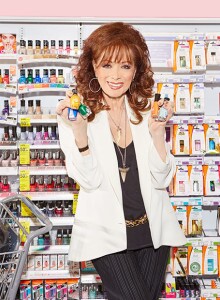 Best-selling novelist Jackie Collins, who died September 19 at age 77, lived in a Beverly Hills mansion and frequented Hollywood's toniest hot spots, collecting dish for her sex- and scandal-filled chronicles of Tinseltown's rich and famous, notably Hollywood Wives.


But Collins was just as likely to be spotted at a local Rite Aid or Target store. Shortly before her last novel, The Santangelos, came out in June, Collins came out to me about her surprisingly down-to-earth tastes:

Writing is so solitary, which is why I love shopping and getting out among people.

I have an interesting kind of fame: I'm not a movie star or a model or a so-called "reality" television personality. Being a writer is a whole different ballgame. When I look at the Kardashians and J-Lo and people like that, I feel sorry for them. The attention is 24 hours a day. I couldn't live that way.

I was dating someone quite famous once, and we walked out of an event to find so many flashbulbs going off I could have tripped and killed myself. When I come out of a restaurant these days, the paparazzi ignore me — unless they have absolutely nothing else going on. I can do whatever I want to do.

Readers' Picks: 10 Books Boomers Love »

I've never had solely high-end taste. I don't understand the snobbery. Target is one of my favorite places. I go once every three or four weeks. I dress normally: athletic shoes, black tracksuit, sunglasses. I love just wandering the aisles, though I often find myself gravitating to the stationery department: I write my books in longhand, so I stock up on felt-tip pens. Black. Dark blue. Every time I see them I think, "I must go home and write!" They give me that impetus. Then I'll go to the CD and movie section, then to the books, then to cameras. They have the best children's clothes. I'll go to a baby shower where everybody's brought these one-off outfits that probably cost them a fortune. Then I show up with tons of T-shirts and little funny things from Target.

I hate how they attack you in department stores. It's, "Can I help you with something? Would you like to see this?" At Target, you're completely left alone — it's just the trolley and you.

I'm also very fond of Rite Aid. They sell these fabulous Maybelline and L'Oréal eye pencils that are just as good as the ones that go for five times as much in fancy cosmetics departments. I like the candy. I love Dots. They weren't that easy to get for a while, but Rite Aid has them now. I get cleaning supplies. I'll get magazines if I'm flying that day, or snacks for the plane.

Sometimes people are surprised to see me there. First they ask to take a selfie with me, then they say, "Why are you here?"

"I'm here because I like it," I tell them.

When I go to New York, I have a driver and he'll say, "You want to go to Duane Reade, don't you?"

I did bump into Sidney Poitier at Rite Aid the other day. I don't know what he was buying. I didn't look in his basket. You never look in people's baskets. It's the same at the market. You can tell a lot about a person from their groceries, but you don't look to see what someone's buying when they're checking out.

Basically, I prefer to do everything for myself. I like picking out my own food. I don't want to call someone and say, "Can you get me some nice hard bananas?" They're never going to be right. You know that.

I've always gone to flea markets, too. Growing up in England, every Saturday I would spend hours at Portobello Road. The thrill of the find is everything. There's also the freedom of being able to walk around and do your own thing.

Enjoy life with our popular games, delicious new recipes, the latest movie review and more! — AARP Leisure Newsletter »

I collect panthers. I don't know why, but I absolutely love them. If I wanted to sound like Shirley MacLaine, I'd say I think I was a panther in another life.

I do have lunch at Nieman Marcus once a week. That's where I get a lot of the information for my books: Everyone tells me everything. That's "high end," I suppose. But I also really like to get away from all that. I see the people I write about at parties and openings and restaurants, and in their homes. The Hollywood wives don't shop at Rite Aid.

In life, you have to do what pleases you, not what pleases other people. That's always been my philosophy.

Photo: Ian Allen, shot on location at Walgreen's, Los Angeles


A lso of Interest



See the AARP home page for deals, savings tips, trivia and more.