6-Ingredient Pie Goes From Vintage to Viral
By Candy Sagon, August 5, 2014 07:00 AM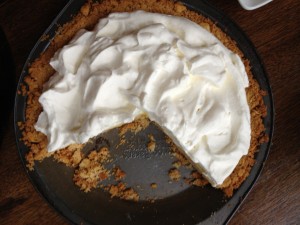 It's salty and sweet, crunchy and creamy, cool and tangy.

It's a vintage lemon pie hugely popular in North Carolina, but thanks to food blogs, a cookbook author and a national radio show, people across the country are now loving it as well.

Cookbook author Katie Workman remembers taking her first bite. "It was like a scene out of When Harry Met Sally. All I could say was, 'Oh my God, oh my God, oh my God.'"

>> Slideshow: America's Best Ice Cream Shops

She was eating at Crook's Corner in Chapel Hill, N.C., where longtime chef Bill Smith serves his version of the pie he remembers from growing up in the '50s. It's particularly beloved by beachgoers all along the Carolina coast, where it's considered the only acceptable dessert after a nice, big seafood meal.

The pie's secret is its crunchy, salty cracker crust that contrasts with a creamy lemon filling similar to the one in key lime pie. The topping is often a meringue, but Smith prefers billowy whipped cream sprinkled with a little coarse sea salt instead. He calls it Atlantic Beach Pie.

It's the sweet-and-salty, creamy-and-crunchy mix that got Workman. Plus, the recipe is dead simple. Just six ingredients (not counting the whipped cream for the top), nothing fancy. The crust uses saltines you can crush with your hands. Workman put Smith's recipe in her The Mom 100 cookbook. She also included it on her themom100.com blog.

Then NPR's All Things Considered came calling and broadcast an interview with both Workman and Smith."Things went crazy" after that, Smith said.

Food blogs and websites posted the recipe. The Food52 site felt it was worthy of their "Genius Recipes" column and provided illustrated step-by-step instructions. It was "a huge hit," getting more than 50 comments within the first couple of days, Executive Editor Kristen Miglore wrote in an email. So far, it's been viewed 29,000 times.

>> Get travel discounts with your AARP Member Advantages.

To Workman, it's the perfect summer pie and she's happy people are finding out about it. "Such an unfussy dessert. I make it all the time, and people are bonkers for it."

Atlantic Beach Pie

Adapted from Bill Smith, chef at Crook's Corner in Chapel Hill, N.C., courtesy Food52.

For the crust:

1½

sleeves of saltine crackers (about 6 ounces or 60 crackers)

½

cup softened unsalted butter

3

tablespoons sugar
For the filling:
One

14-ounce can sweetened condensed milk

4

egg yolks

½

cup lemon or lime juice or a mix of the two

Fresh whipped cream, for garnish

Coarse sea salt, for garnish


Preheat oven to 350° F.

Crush the crackers finely, but not to dust. You can use a food processor or your hands. Add the sugar, then knead in the butter until the crumbs hold together like dough. Press into an 8-inch pie pan. Chill for 15 minutes, then bake for 18 minutes or until the crust is golden brown.

While the crust is cooling (it doesn't need to be cold), beat the egg yolks into the milk, then beat in the citrus juice. It is important to completely combine these ingredients. Pour into the shell and bake for 16 minutes until the filling has set. Let pie cool on a rack, then refrigerate. The pie needs to be completely cold to be sliced. Serve with fresh whipped cream and a sprinkling of sea salt.


Photo courtesy of Katie Workman, themom100.com blog



Also of Interest



See the AARP home page for deals, savings tips, trivia and more