Acupuncture Helps Ease Fatigue After Breast Cancer
By Candy Sagon , October 31, 2012 08:00 AM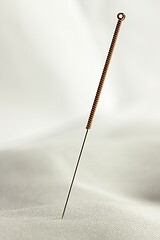 Persistent fatigue after breast cancer treatment is a common problem among patients, with one in three women suffering the debilitating tiredness for a year or more after their treatment ends. Older women, in particular, say their post-cancer fatigue severely affects their mood and quality of life.
But a new multicenter study by British researchers finds that acupuncture may help reduce fatigue and improve quality of life in women who have had breast cancer.
In the study published this week in the Journal of Clinical Oncology, researchers with the University of Manchester in the United Kingdom found that women who received weekly acupuncture sessions had greater improvements in fatigue as well as anxiety, depression and quality of life, compared with those who only received educational materials, Reuters reported.
The study involved 302 breast cancer patients who had all received chemotherapy for breast cancer in the five years before the study. Most reported feeling chronically tired for a year or more. Seventy-five women were randomly assigned to receive a booklet about managing fatigue, while 227 received acupuncture once a week for six weeks as well as a booklet.
After six weeks, both groups were asked to rank their fatigue, anxiety, depression and other quality-of-life measures. Among the acupuncture group, general fatigue had dropped by almost four points on a 0-20 scale, compared with a less than a one-point decline in the booklet-only group.
Amit Sood, M.D., of the Mayo Clinic in Rochester, Minn., who was not part of the study, told Reuters that the four-point drop should be considered "mild to modest" improvement, enough to make acupuncture "well worth a try" for some people.
Anxiety and depression scores dropped by even more post-acupuncture, compared with the scores from women in the booklet-only group. Emotional and physical well-being got a greater boost with acupuncture therapy as well, the researchers found.
Lead researcher Alexander Molassiotis, a professor of cancer and supportive care at the University of Manchester, wrote that the results suggest that "acupuncture is an effective intervention for managing the symptoms of cancer-related fatigue and improving patients' quality of life."
In an accompanying editorial, Julienne Bower of UCLA's Jonsson Comprehensive Cancer Center noted that "only a handful of randomized controlled trials have targeted patients with moderate to severe fatigue," as this study did. Considering the prevalence and impact that cancer-related fatigue has on patients' health and survival, "there is a critical need" for more studies to help patients cope with the aftereffects of cancer treatment, Bower said.
In other health news:
Mammograms: For every one life saved, three women overtreated. Breast cancer screening for women over age 50 saves 1,300 lives a year, new British research shows, but that comes with a cost: Roughly 4,000 women are overdiagnosed and treated for a slow-growing cancer that doctors say would never have threatened their lives, according to Reuters.
Advanced lung cancer patients misunderstand purpose of treatment. The Los Angeles Times reports that patients diagnosed with lung cancer that is considered incurable appear to misunderstand the purpose and likely effect of a treatment aimed at making them more comfortable, a new study says.
Photo: acidpix via flickr