Asian Pears: A Natural Cure for Hangovers (and Constipation)?
By Candy Sagon, August 7, 2015 04:50 PM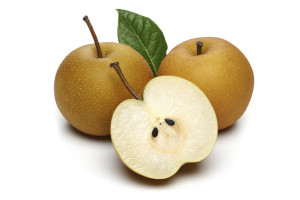 We've all heard the so-called cures for a hangover: lots of water, greasy food, coffee, B vitamins, hair of the dog, blah blah blah. Not exactly scientifically backed stuff.

But now Australian scientists think they've found a natural cure that's more than just vague folklore.

Australia's national science agency, the Commonwealth Scientific and Industrial Research Organization (CSIRO), announced on its news blog that it "stumbled upon" a great scientific finding: Asian pears can apparently ward off hangovers and lower blood alcohol levels.

Based on pear research CSIRO is conducting with Horticulture Innovation Australia, eating an Asian pear — or more specifically, drinking about 7½ ounces of Asian pear juice — before having alcohol "significantly reduced" hangover symptoms compared to drinking a placebo drink. The biggest improvement was seen in subjects' ability to concentrate the morning after, researchers said.

Manny Noakes, CSIRO's research director for food and nutrition, said the pears act on the key enzymes that speed up the body's ability to metabolize and eliminate alcohol. That, in turn, reduces alcohol absorption. "In particular, reductions were seen in blood acetaldehyde levels, the toxic metabolic thought to be responsible for the hangover symptoms," she said.

The research was based on consuming pear juice, but Noakes said "consumption of whole pears may produce a similar effect." On the other hand, she was adamant that eating pears — or drinking the juice — must be done before you imbibe. "There is no evidence that you can consume pears after drinking and avoid a hangover."

Asian pears have other benefits, as well. Research has shown they are high in fiber and nutrients that help lower cholesterol, relieve constipation and have anti-inflammatory effects.

Get discounts on prescriptions, health exams, eye care and more — AARP Member Advantages »

Americans are probably more familiar with soft, sweet European pears, like Anjou, Bosc and Bartlett. Asian pears, by contrast, are firm, with the juicy crunch and plump shape of an apple. They also have a long shelf life and will keep refrigerated for three months.

Noakes cautions that the hangover study is still only preliminary, with results yet to be finalized. Still, compared to some other hangover "cures," this one seems a lot easier to swallow.

Photo: kaanates/iStock


Also of Interest

See the AARP home page for deals, savings tips, trivia and more.