Avoid Weight Gain, Sickness, and More: The Ultimate Holiday Survival Guide
By Alejandra Owens , December 14, 2011 09:41 AM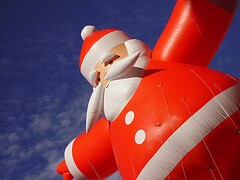 This is a guest post by Annie Lynsen, on loan to AARP from Small Act.
Don't be like Santa this holiday season.
Seriously, that guy is a health nightmare, between all the extra cookies he eats to his habit of overexerting himself (at least on one night in particular).
Instead, make small, healthy changes to your usual holiday festivities to avoid packing on extra pounds or getting sick.
To start with, don't stress out. Breathe. And remember, if you've been sticking to a healthy lifestyle, you don't have to backslide.
Eat right

Keep sickness at bay

Buy good gifts

What's your top holiday survival tip?
Photo credit: Bart Fields on Flickr