Blood Test May Help Find Ovarian Cancer Early
By Candy Sagon , August 28, 2013 08:00 AM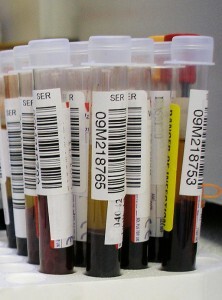 Hopes for a screening test that could detect ovarian cancer early - something that has eluded the fight against this lethal disease - were boosted this week with results from an important new study.
Published online in the journal Cancer, the research involved monitoring women's yearly blood test results for a sudden change in a biomarker called CA-125, a protein that indicates tumor growth. More than 4,000 postmenopausal women took part in the 11-year study at the University of Texas MD Anderson Cancer Center in Houston.
Researchers used a two-step strategy for detecting the cancer. Women whose tests showed a jump in CA-125 would then be checked every three months. If there was a further increase, the woman would be sent for a transvaginal ultrasound to look for the beginnings of cancerous cell growth that could be surgically removed.
This is a new way of looking at things. Instead of using a CA-125 level that might be considered high based on the average of all women, it tracks changes in each woman's levels of the biomarker. "It's more personalized, and it also incorporates age," study researcher Karen Lu, M.D., professor of gynecologic oncology at MD Anderson, told LiveScience.
Early detection is critical with ovarian cancer, which is extremely tough to treat at an advanced stage. About 20,000 U.S. women annually are diagnosed with this cancer, and most cases are found after the disease has advanced and the prospect of survival is grim - less than 30 percent, according to the Los Angeles Times. About 14,000 women a year will die from it.
If the disease can be caught early, the odds of survival are much better - 75 to 90 percent of patients will be alive in five years - but unfortunately, early symptoms are not easily recognizable, and there are no established screening procedures.
The study showed that about 6 percent of women were in the intermediate risk group, needing monitoring every three months, and about 1 percent were referred for an ultrasound.
Ten women eventually underwent surgery; of those, four were found to have malignant ovarian tumors and one was found to have endometrial cancer.
Still, researchers were cautious about the significance of their findings. "The results from our study are not practice-changing at this time," said Lu, but she added that this screening strategy "may be beneficial in postmenopausal women with an average risk of developing ovarian cancer."
Researchers are also awaiting results from a similar study - of 200,000 women, currently being conducted in the United Kingdom - using the same screening strategy. The results are expected to be released by 2015.
Others in the field, however, were more excited to hear about any progress in detecting a cancer that hasn't had much good news.
"I was more excited reading this study than I have been in a really long time," Debbie Saslow, Ph.D., director of breast and gynecologic cancers for the American Cancer Society, told HealthDay. "Not only was [the screening] finding cancers, but it was finding them early. That's what we want to do."
Photo: commons.wikimedia.org
Also of Interest