Boston Marathon Bombing Survivor: Key to Recovery Was Support, Determination
John Odom is looking forward to walking into Boston Medical Center this week for a memorial honoring survivors of the Boston Marathon bombing. After all, when he left the hospital last May, the doctors and nurses weren't sure he would ever walk again.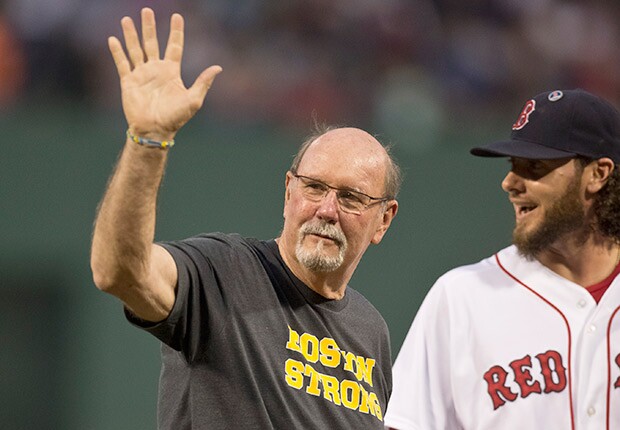 Odom, 66, was one of the most severely injured of the bombing victims, enduring 11 surgeries and weeks on life support after shrapnel from one bomb tore apart his legs.
"I want to be able to walk in there and thank the hospital staff for what they have done for me and for my family," he says.
Related: Short film celebrates Marathon's "fallen man" Bill Iffrig, now 79, and his passion for running
A year ago this month, Odom had traveled with his wife, Karen, from their home in Redondo Beach, Calif., to watch their daughter Nicole Reis run the Boston Marathon. He was standing about 10 feet from where one bomb exploded. The shrapnel hit him, severing arteries in both legs and completely cutting his sciatic nerve.
For the first two weeks after his injury, doctors weren't sure he would live. But as soon as Odom was conscious, he dedicated himself to getting better. "Once he started regaining the ability to interact, he took it on himself to do everything possible," says Jeffrey Kalish, one of his surgeons. Kalish says he's never seen a patient so gravely injured make such a complete recovery.
At the time, Odom was only six weeks from retiring from his job as chairman of a mechanical contracting company. Learning how to walk again wasn't how he planned to start retirement.
But his determination and optimism served him well - studies have found that a positive mental attitude is key to a successful recovery. He was also lucky to have had expert teams of doctors, nurses and physical therapists. But he thinks the support of his family has been crucial.
"The whole family was there for weeks, months, supporting me," he says. "We've always been close, but now we are even closer."
Karen Odom said she initially felt a moment of despair but then was able to move on and wholeheartedly embrace the task of helping her husband.
"We've been each other's cheerleaders," she says. "He's always taken care of the family, so it was my turn to take care of him."
>> Get travel discounts with your AARP Member Advantages.
Rather than letting one dark day scar his future, Odom focused on getting better and concentrated on the goals he wanted to reach - walking on the beach, playing golf, renovating his house, dancing with his wife.
"I continue to do the same things that I've always done," he says. "I don't think this has changed my outlook. You've got to find the positive things instead of dwelling on 'poor me' or 'What happened?' "
Odom continues to work on strength and balance with a physical therapist and personal trainer five times a week - his left leg is paralyzed below the knee.
But he feels strong enough to play with his grandchildren: Jacob, 7, and twins Christian and Weston, 4. And three weeks ago he played golf again for the first time, at Pebble Beach near Monterey.
"There are going to be obstacles in life. We have to find the positive things, and we have to go forward with them," he says.
Photos: Matthew J. Lee/The Boston Globe via Getty Images
Also of Interest

See the AARP home page for deals, savings tips, trivia and more