But What About Chocolate? Americans Reveal Their #1 Favorite Food
By Candy Sagon , June 22, 2011 08:00 AM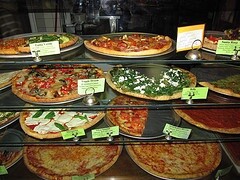 Forget about "as American as apple pie." Substitute "pizza" for "apple" and you'll know what a new survey found to be Americans' favorite food.
Of the 1,000 or so Americans surveyed for a global study by Oxfam International, pizza was the hands-down top choice, garnering twice as many votes as second place steak and third place chicken.
Surprisingly, the all-American burger ranked only eighth with a measly three percent of the votes.
Most upsetting, at least to some of us, was that chocolate in the U.S. ranked only number 10. Frankly, I am shocked. I may just have to move to Australia, where chocolate was, yes, number one!
No kidding, those fun-lovin' Aussies ranked chocolate their favorite food, with pasta and steak coming in at number two and three. Pizza? Eh. Number five with the blokes Down Under.
In terms of the world, the overall top three favorite foods are pasta, meat and rice, but the survey also revealed other interesting preferences. In Pakistan, vegetables are the most-liked food. In Spain, it's paella. In Brazil, they love lasagna most of all.
All of these results were part of a much more serious survey of more than 16,000 people in 17 countries designed to look at whether escalating food prices have changed the way we eat.
More than half of those surveyed said they are no longer eating some foods that they ate two years ago, citing rising cost and health reasons as the predominant reasons for the change.
But there were some dramatic differences:
*Americans are more concerned about health than cost. Some 37 percent of Americans said they changed their diet from two years ago for health reasons, while 24 percent blamed the high cost of food. Other countries who rank health concerns the main reason they're eating differently now: India, the Philippines, South Africa and Germany.
*Russians worry about food safety. Russia was the only country in the survey to rank concerns about the way certain foods are produced as the chief reason people there have changed their diet.
* Kenyans and Tanzanians find food expensive, scarce. Sadly, substantial segments of both countries say they worry about not having enough food to eat on a daily basis.
As for the answers to "What is your favorite food?", the survey notes that the results "illustrate the degree which western diets ... have spread across the world.
"While national dishes are prominent in most countries - paella in Spain, adobo in Philippines, schnitzel in Germany, biryani in India - in almost all countries, pizza, pasta and chicken are the favorite food of many."
So, do you agree? Is pizza your favorite food?
Photo credit: Jeffrey Tastes via flickr.com