Can Young Blood Reverse Aging in Older Brains?
What's the secret of youth? It may be all in the blood.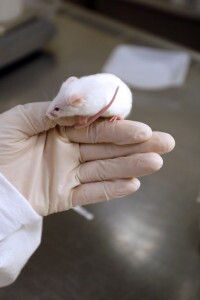 Three new studies published Sunday showed that when the blood of young mice was put into the systems of older mice, the effects of aging were reversed, improving both muscles and brains. Researchers will now race to find practical implications for older human brains. One of the study authors plans to start a trial this year, giving young blood to Alzheimer's patients to see if it can reverse effects of the disease.
"These findings could be a game changer," Rudolph Tanzi, a professor of neurology at Harvard Medical School, told the New York Times.
>> Sign up for the AARP Health Newsletter
Scientists at Stanford University joined mice by stitching together their skin. The blood from the young mouse flowed into the system of the older mouse and vice versa. The scientists found that the older mice benefited from the merging. Not only did they produce more blood vessels and neurons, they had an enhanced ability to strengthen connections between nerve cells. Researchers then discovered that injecting a protein found in blood had the same benefits as sharing the blood supply.
"It was as if these old brains were recharged by young blood," said Tony Wyss-Coray, lead author of the study published in Nature Medicine and a professor of neurology and neurological sciences at Stanford. If the same goes for humans, it could mean new new therapeutic approaches for treating dementias such as Alzheimer's disease. Wyss-Coray has launched a start-up company, Alkahest, and is planning to start the first young blood trial this year on Alzheimer's patients, according to the Washington Post.
Two studies out of Harvard, both released online in the journal Science, tested a protein that is more plentiful in the blood of younger mice than older ones. They found that giving older mice the protein, called GDF11, caused them to grow new blood and brain cells, leading to better brain function.
>> Get discounts on health services with your AARP Member Advantages.
"There seems to be little question that, at least in animals, GDF11 has an amazing capacity to restore aging muscle and brain function," said Doug Melton, co-chair of Harvard's Department of Stem Cell and Regenerative Biology.
Some scientists are urging caution, however, warning that no one knows what might happen with efforts to rejuvenate older human brains. Irina Conboy, a professor of bioengineering at the University of California, Berkeley, told the New York Times that waking up stem cells could dramatically increase the incidence of cancer. "You have to be careful about overselling it," she said.

Also of Interest

See the AARP home page for deals, savings tips, trivia and more