Check Those Buns: The Best and Worst Burgers To Order
By Candy Sagon , July 21, 2011 08:00 AM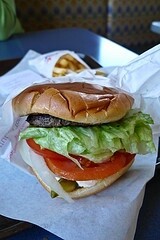 Of course you love a thick, juicy, all-American burger. Even First Lady Michelle Obama, anti-obesity advocate and nutrition-conscious mom, recently ordered a burger and fries at D.C.'s Shake Shack during a lunch with friends.
But there are burgers and there are burgers. Some can be nutrition nightmares, packing in a day's worth of calories, fat and sodium between two buns. By making smart choices, you can still indulge without undermining your health.
Health.com recently took a look at the best and worst of fast-food and quick-serve restaurant burgers, while Men's Health's popular "Eat This Not That" took a look at the 15 worst burgers and offered alternative options.
One great tip: Save 300 calories by ordering two small burgers instead of one burger with double-stacked beef patties. Make a swap like this for six months and you could lose 14 pounds, according to Men's Health.
Other good suggestions: Skip the fatty mayo and be careful of the toppings. Anything with bacon and cheese is aiming for the heart-attack-on-a-bun award.
Below is a list of some of Health.com's best burger choices:
Best plain burger patty: Wendy's Jr. Hamburger at just 230 calories and 8 grams of fat.
Best burger with mushrooms and cheese: Dairy Queen's Mushroom Swiss GrillBurger strikes a good balance. It's also a relatively modest 590 calories.
Best turkey burger: Hardee's and Carl's Jr.'s Charbroiled Turkey Burger. They teamed up with Men's Health to offer five turkey burgers under 500 calories.
Best other-meat burger: Ted's Montana Grill's Skinny Dip Bison Burger (606 calories) has fewer calories and less saturated fat than beef, but is high in sodium.
Best sliders: Ruby Tuesday's Zucchini Cake Minis. Sliders at some chains can rack up more calories than a single burger. The zucchini cake patties have just 580 calories. (The turkey minis, on the other hand, total a whopping 1,058 calories. Save 500 calories by ordering a turkey burger wrap at 551 calories.)
Best meatless drive-through burger: Burger King's BK Veggie Burger. Order it without mayo and it's only 320 calories.
Best restaurant veggie burger: Denny's Veggie Burger comes with melted pepper Jack cheese, spinach, tomato and grilled mushrooms on a wheat bun--all for just 540 calories.
Photo credit: Marshall Astor via flickr.com