Tom Hanks Reveals He Has Diabetes. Did Fluctuating Weight Play a Role?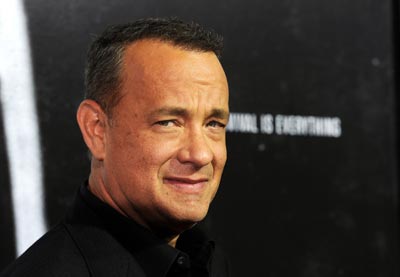 In a surprise announcement, Tom Hanks, 57, revealed on the Late Show with David Letterman that he has diabetes. While on the show to promote his new film Captain Phillips, he told Letterman that he learned at age 36 that he had high blood sugar. Recently his doctor told him: "You've graduated. You've got type 2 diabetes, young man." Hanks said the doctor also told him that if he could return to his high school weight, he'd be "completely healthy" and avoid type 2 diabetes. Hanks replied: "Then I'm going to have type 2 diabetes." He joked he weighed about 98 pounds in high school.

Many of us look longingly back to our high school weight, but not all of us who gained a few pounds in our college years (and a few more after that) have diabetes. Which prompts the question: Was his acting career to blame? Some experts have speculated that his swings in weight gain were a factor. Hanks' weight has seesawed through the years as he has played different roles - he gained 30 pounds to play baseball coach Jimmy Dugan in A League of Their Own, and dropped from 225 pounds to 170 for Castaway, according to CBS This Morning.

Save 20% off personal training & group fitness with your AARP Member Discounts

"It sounds like he probably had prediabetes and now at 57 has developed type 2 diabetes, and that is a typical age where we do see it develop," says Rita Kalyani, M.D., an assistant professor of medicine at Johns Hopkins University in Baltimore who studies diabetes and aging. Prediabetes is a condition in which blood glucose levels are higher than normal but not high enough for a diagnosis of diabetes. Kalyani says that "older adults have the greatest burden of type 2 diabetes of any age category," and adds that a third of Americans 65 or older have diabetes and another third have prediabetes.

Of course, Hanks isn't the only American who has had big fluctuations in weight - although for many the curve goes only up. Type 2 diabetes is a growing epidemic around the world; more than 20 million people have it in the United States, at an estimated annual cost of $174 billion.

Weight isn't the only factor that plays a role in developing the disease. There are things you can't do anything about: age, family history and ethnicity, Ronald Tamler, M.D., clinical director with the Mount Sinai Diabetes Center in New York, said in an email. Other risk factors you can influence, such as diet, lifestyle and physical activity. But living with diabetes is manageable with the right combination of diet, exercise and medication.

"People with a new diagnosis of diabetes should not throw in the towel - on the contrary: Together with their health care team, they can work, can thrive, and live a long, full and active life while averting the complications of diabetes," Tamler said.

In addition to maintaining a healthy diet and getting plenty of exercise - which helps the body manage insulin and blood sugar levels - here are a few recent tips from AARP The Magazine, from " 5 New Ways to Prevent Diabetes" by Holly St. Lifer.

* Eat breakfast every day. Eating within two to three hours of waking up reduces your risk by 34 percent, according to a recent study.

* Get plenty of sleep (but not too much). Sleeping less than six hours a night is linked with a 60 percent higher rate of the disease.

* Toss the cigarettes. Smoking increases your likelihood of developing the disease by 40 percent.

Photo: Amanda Edwards/WireImage/Getty Images



Also of Interest



See the AARP home page for deals, savings tips, trivia and more