Diet Soda: Zero Calories, But Still Makes You Fat
By Candy Sagon, July 10, 2012 08:00 AM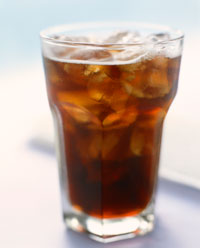 Regular soda is full of sugar and calories that can make you fat, but what about no-calorie, diet soda? Shouldn't it help keep you from gaining weight?

A growing number of studies say no. In fact, drinking diet soda seems to have the same effect on your waistline as regular sodas, causing weight gain and a craving for more sugar, reports Msnbc.com.

A new paper published in Obesity Reviews finds that consuming large amounts of fructose (a type of sugar), artificial sweeteners, and sugar alcohols (another type of low-calorie sweetener) can interfere with the natural bacteria in your intestines, which in turn messes up your metabolism and disrupts the body's way of signaling to you that you're full and satisfied, according to study author Amanda Payne of Switzerland's Institute of Food, Nutrition and Health.

Save 20% on personal training & group fitness with your AARP Member discounts

In other words, diet sodas make you want to eat more.

Which might explain a 2011 University of Texas Health Science Center study that found that older adults gained, not lost, weight by drinking diet soda, as CBS News reported:

The Texas researchers followed 474 diet soda drinkers, 65 to 74 years of age, for almost 10 years. They found that diet soda drinkers' waists grew 70 percent more than non-drinkers. Those who drank two or more diet sodas a day saw their waist grow five times more than people who avoided the stuff entirely.

Of course, this doesn't establish an exact biological cause for why diet soda might cause weight gain. It could be because those who drink diet soft drinks are already struggling with their weight, or that they figured that drinking a diet drink meant they could have extra-large portions of other foods.

But it does raise questions about the effect of artificial sweeteners on the body's metabolism.

In addition, the Swiss researchers noted another questionable health effect of diet soda: Fatty acids produced during digestion of artificial sugars can cause inflammation of the intestinal lining, a risk factor linked to type 2 diabetes, stroke and heart disease.

But if you must have a fizzy fix, are there any healthier soda options?

The editors at Rodale.com have come up with eight nontraditional sodas -- including Steaz Sparkling Green Tea, Virgil's Root Beer and Reed's Ginger Ale -- that are somewhat better for you.

We would also add Izze Sparkling Juice, available in many supermarkets.

Or try making your own concoction, like this Pomegranate Soda recipe from marthastewart.com.

In other health news:

New line of menopause products not that useful, doctors say. Kimberly-Clark's Poise feminine hygiene line is rolling out a line of products on July 23 that target 50 million American women who are or will soon go through menopause, according to the Associated Press. Priced between $3.99 and $7.99, the line includes lubricant for vaginal dryness, panty freshener stickers and feminine wash for odor and cooling towelettes and roll-on gel for women having hot flashes, but some doctors say many of the products are not particularly useful to women going through menopause.

Expensive, newer stents not better for all. Reuters reports on a new study that suggests that many heart patients get newer, pricey stents inserted during artery-clearing procedures, even if it's not clear they'd be worse off with more basic models. Along with being more costly, so-called drug-eluting stents require patients to take aspirin and other blood-thinning drugs for a longer period of time after their procedure - which may mean they have to put off future elective surgeries because of bleeding risks, according to one researcher who worked on the report.

As blood donations decline, ban on gay donors is examined.  The American Red Cross reports that blood donations are down more than 10 percent across the country and the group is urging people to donate. To encourage more donations, a group of 64 legislators has sent a letter to the Department of Health and Human Services encouraging it to end the ban on blood donations from gay men, begun in the 1980s during the AIDS epidemic.

Photo credit: bestbonesforever.gov



Also of Interest



See the AARP home page for deals, savings tips, trivia and more