Dietary Supplements Send 23,000 to ER Yearly
By Candy Sagon, October 19, 2015 07:04 AM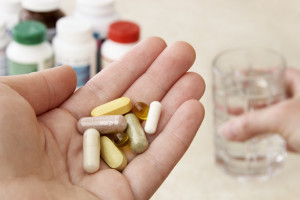 Popular over-the-counter supplements, including multivitamins, energy boosters and diet pills, send 23,000 Americans to the emergency room yearly with chest pain, heart palpitations, choking and other problems, according to the first large study to look at the products' adverse effects.

The federally funded research was published in the New England Journal of Medicine. It's based on data from 63 emergency rooms across the country, from 2004 to 2013.

Unlike prescription medicines, the $32 billion supplement industry is largely unregulated; the study's researchers point out that "neither safety testing nor FDA [Food and Drug Administration] approval is required" before supplements are sold. There also are no requirements that product labeling list possible adverse side effects.

Read the latest discoveries, exercise and memory-sharpening tips, health care reform and more! — AARP Health Newsletter »

Some of the study's significant findings:

Among older adults, swallowing and choking problems caused nearly 40 percent of emergency visits, with most of these due to large multivitamins. While the FDA limits the size and shape of prescription pills, there are no size or shape requirements for supplements.
Calcium products caused 54 percent of all ER visits involving swallowing problems, whereas iron or potassium products were most frequently associated with abdominal problems, including nausea, vomiting and stomach pain.
Women were the patients at more than half of ER visits due to problems with supplements. Weight-loss products were the most common reason, causing 30 percent of visits.
Weight-loss or energy products caused nearly 72 percent of visits to the emergency department involving cardiac symptoms, including abnormal heart rate and chest pain. More than half of these visits involved adults ages 20 to 34.
Unsupervised children ages 4 and younger who took supplements accounted for 21 percent of emergency department visits. Nearly two-thirds of these visits involved multivitamins. Child-resistant packaging is not required for dietary supplements, other than those containing iron. Ironically, iron supplements were the second most common type of supplements that children swallowed when no adult was watching.
Of the 23,000 visits to the ER due to supplements, more than 2,000 patients were hospitalized. Those age 65 or older were twice as likely to be hospitalized as younger adults.


Approximately half of all adults in the U.S. have used at least one dietary supplement in the past month, according to the study, and the number of supplement products has soared from 4,000 in 1994 to more than 55,000 in 2012.

12 Foods That Sabotage Sleep »

Also, although the FDA has ramped up its efforts to recall products containing banned pharmaceutical substances, these products often remain on the market despite the recall. A recent study found that nearly 67 percent of these supplements still contained the banned ingredients and were still being sold at least six months after FDA recalls.

Even so, the number of emergency room visits due to supplements is less than 5 percent of the numbers reported for prescription medication, which the Council for Responsible Nutrition, a trade group for the dietary supplement industry, said is evidence that the products are safe.

A spokesman for the group told the New York Times that choking and other hazards highlighted by the study could be addressed by the FDA. "If they think that capsule sizes in the elderly are an issue, they could put out an advisory and the industry would respond," he said. "The current law as it's written has everything in it to make this change."

Andrew Geller, M.D., of the federal Centers for Disease Control and Prevention and the lead author of the study, had these suggestions for older adults: "Avoid taking several pills at once, avoid extra-large pills or capsules, and swallow supplements with plenty of water or other fluid," he said in an email.

Get discounts on prescriptions, health exams, eye care and more — AARP Member Advantages »

He recommended that people ask their physician or pharmacist if a supplement can be cut in half for easier swallowing, and that "all medicines and dietary supplements be stored up, away and out of sight of young children."

Photo: jml5571/iStock

Also of Interest

See the AARP home page for deals, savings tips, trivia and more.