Eating Done Right: Cabbage-Food of the Week
By Carole Carson, June 28, 2012 09:00 AM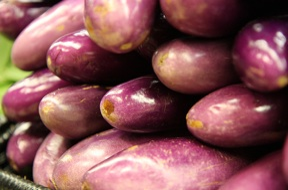 After an afternoon swim at the local postage-stamp sized pool in Earlville, Iowa, my younger sister (age 7) and I (age 9) would return to our grandmother's house ravenously hungry. Most of the time, Grandma served us a steaming bowl of cabbage, carrot and potato soup, made with three vegetables abundant in her garden. We devoured the soup, along with warm bread slathered in butter and glasses of cold milk. To this day, I credit my grandmother with teaching me to enjoy cabbage. (I even like sauerkraut.)

We ate the common green cabbage, but I've since learned to appreciate the virtues of red, Chinese and savoy cabbage. Nutritionists tell us that besides being low in calories, fat and cholesterol, cabbage is a good source of protein, thiamin, calcium, phosphorus and copper and dietary fiber. Cabbage is also loaded with vitamins A, C, K and B6 along with folate, magnesium, potassium and manganese.

Over the years, I've served dozens of variations of coleslaw. Sometimes I make a version with fresh apples or oranges and a fruit-based dressing. Sometimes I make a vegetable version with onions and green peppers tossed with a mayonnaise-vinegar dressing. I've also sneaked shredded cabbage into soups, especially bean soups. And I love making cabbage rolls ( porcupines). My current favorite cabbage dish, however, has a new twist. I'm using shredded cabbage in stir-fry.

Here's a recipe (which I slightly modified) from Good Housekeeping's website for you to try:

Chicken and Cabbage Stir-Fry

Serves 4 to 6

1 tablespoon vegetable oil

1 pound skinless, boneless chicken, cut into 1-inch chunks

3 green onions, cut into 1 1/2-inch pieces

1 medium red pepper, thinly sliced

1/2 small head green cabbage, shredded (about 4 cups)

1 cup reduced-sodium chicken broth

2 tablespoons reduced-sodium soy sauce

1 tablespoon cornstarch

2 teaspoons grated fresh ginger

1. In a 12-inch nonstick skillet, heat the oil over medium-high heat. Add the chicken and green onions and sauté until the chicken is well browned and loses its pink color, about 5 minutes. Transfer the mixture to a medium bowl.

2. In the same skillet, combine the red pepper, cabbage, and 1/4 cup of the chicken broth. Cover and cook over medium heat, stirring occasionally, until the vegetables tender-crisp, about 5 minutes. Transfer the vegetables to the bowl containing the chicken.

3. Whisk together the soy sauce, cornstarch, ginger, and remaining 3/4 cup broth in the skillet and bring to a boil over high heat; boil 1 minute. Remove the skillet from the heat and add the chicken and vegetables, stirring to combine.

You can serve the stir-fry over rice, couscous or any other grain that appeals to you.

Bon appétit!

P.S. Do you have any cabbage recipes to share?

Photo credit: La Grande Farmers' Market on Flickr.