Eating Done Right: Chickpeas - Food of the Week
By Carole Carson, November 11, 2011 09:55 AM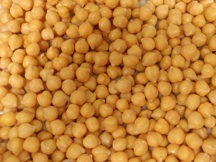 Chickpeas, otherwise known as garbanzo beans, enjoy a huge popularity in kitchens all over the world. In most Middle Eastern countries, chickpeas are included in a variety of different foods, from hummus to falafel, and in some places in India, chickpeas are consumed on a daily basis.

Two varieties of chickpeas dominate: desi and kabuli. The darker desi is eaten more frequently in India, Mexico, Ethiopia and Iran, while kabuli, the lighter-skinned variety, is popular in Southern Europe, Chile, North Africa and Afghanistan.

A member of the legume family, chickpeas originated in the Middle East about 7,500 years ago and were originally cultivated by ancient Egyptians, Greeks and Romans. Spanish explorers introduced chickpeas to other parts of the world in the sixteenth century.

Chickpeas are a nutritional bargain. An excellent source of protein and fiber, they are often a go-to food for vegetarians, as well as for those who wish to lower their cholesterol. Because 65-75 percent of the fiber content is insoluble fiber, garbanzo beans support the health of the digestive tract, thus lowering the risk of colon cancer. And since chickpeas may help lower blood sugar levels, they are a good choice for diabetics and people with hypoglycemia or insulin resistance.

While chickpeas contribute a healthful, nutty-tasting goodness to many meals, they may also be enjoyed as a stand-alone snack. This recipe from the popular Allrecipes.com website is sure to spice up your afternoon.

Ingredients

1 (12 ounce) can chickpeas (garbanzo beans), drained
2 tablespoons olive oil
salt (optional)
garlic salt (optional)
cayenne pepper (optional)

Directions



Preheat oven to 450 degrees F (230 degrees C). Blot chickpeas with a paper towel to dry them.

In a bowl, toss chickpeas with olive oil, and season to taste with salt, garlic salt, and cayenne pepper, if using.

Spread on a baking sheet, and bake for 30 to 40 minutes, until browned and crunchy. Watch carefully the last few minutes to avoid burning.
Bon appétit!

P.S. Do you have any chickpea recipes to share?

Photo credit: JoelK75 on Flickr