Eating Done Right: Cucumbers - Food of the Week
By Carole Carson , October 04, 2012 07:00 AM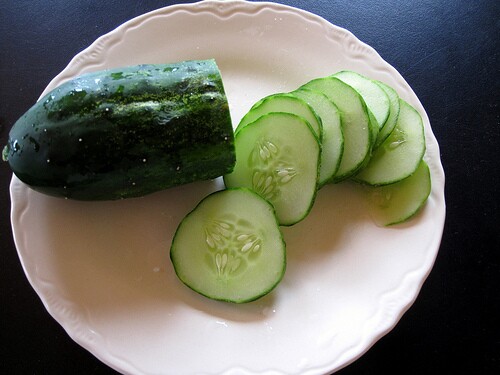 No doubt you've heard the saying cool as a cucumber, but did you know that cucumbers boast a number of excellent nutritional benefits?
Cucumbers have long been a go-to nutritional source. Because of their ability to stave off hunger pangs, cucumbers were a popular quick meal for European traders; however, the popularity of cucumbers goes back much further. Cucumbers are mentioned in the Bible, and the Roman Emperor Tiberius reportedly kept them on the table for every meal.
Cucumbers, like watermelons, are 95 percent water. As a result, eating cucumbers hydrates the body and lowers the body's internal temperature. Because of these effects, cucumbers are an excellent food to eat during the summer months. In addition to providing several health benefits, cucumbers supply essential B vitamins, folic acid, vitamin C (found mostly in the skin of the cucumber), calcium, iron, magnesium, phosphorus, potassium and zinc. Some studies also suggest that cucumbers can lower blood pressure. And cosmetically, applying cucumber slices to the skin, especially over the eyes, helps reduce wrinkles.
Below is a delicious cucumber salad recipe I found on the Katie Lee at Home website. The easy recipe takes only 15 minutes to prepare and tastes great on hot summer days.
Tomato, Vidalia Onion and Cucumber Salad
Serves 4 to 6
3 ripe tomatoes, sliced
1 Vidalia onion, halved and thinly sliced
1 English cucumber, peeled and thinly sliced
1/2 cup cherry tomatoes, halved
1/4 cup extra-virgin olive oil
1/4 cup white wine vinegar
1/2 teaspoon kosher salt or regular salt
1/2 teaspoon freshly ground black pepper
2 scallions, thinly sliced (green and white parts)
Arrange the tomato slices on a platter. In a medium bowl, combine the onion, cucumber and cherry tomatoes. In a small bowl, whisk together the oil, vinegar, salt and pepper. Add to the salad and toss to combine. Spoon the salad onto the sliced tomatoes. Garnish with the scallions.
For more cucumber salad recipes, explore the AllRecipes.com website.
Bon appétit!
P.S. Do you have any cucumber recipes to share?
Photo Credit: Karen and Brad Emerson on Flickr