Eating Right During the Festival of Lights
By Alejandra Owens, December 12, 2011 09:03 AM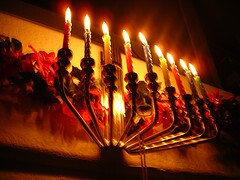 This is a guest post by Annie Lynsen, on loan to AARP from Small Act.

From the latkes fried in oil and served with sour cream to the (often) fatty brisket, Hanukkah can be a trying time for those trying to eat healthier.

But it doesn't have to be. Here are several collections of healthier Hanukkah recipes that whittle down the calories, fat and cholesterol while remaining delicious.

What's your favorite way to maintain a healthy lifestyle over the holidays?

Photo credit: TheChanel on Flickr