Gluten-Free Foods Get New FDA Rules
By Candy Sagon , August 02, 2013 11:49 AM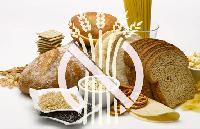 After more than six years of study, the Food and Drug Administration has announced new standards for foods labeled "gluten-free," a step the agency said would help the 3 million people with celiac disease who cannot digest the naturally occurring protein.
Gluten is primarily found in wheat, as well as in some other grains like barley, rye and triticale. It can cause bloating, pain and inflammation of the small intestine in people with celiac disease. The only way to avoid these symptoms is to avoid gluten entirely - which the new guidelines will help consumers do, said FDA Commissioner Margaret A. Hamburg, M.D.
In order to use the term "gluten-free" on its label, a food must contain less than 20 parts per million of gluten, the agency said. The rule also requires foods with the claims "no gluten," "free of gluten," and "without gluten" to meet the definition for "gluten-free."
The limit is similar to the level adopted by the European Union and Canada, and it did not come as a surprise to industry or patient advocate groups, the New York Times reported.
Andrea Levario of the American Celiac Disease Alliance welcomed the new guidelines, telling the Associated Press that without the government's rule, " celiac consumers are playing Russian roulette when it comes to making safe food choices."
She said t he standard will also ensure that companies can't label products "gluten-free" even if they are cross-contaminated from other products made in the same manufacturing facility.
The gluten-free labeling rule was first proposed during the George W. Bush administration, an FDA official said. Since then, gluten-free products have become a $4 billion business, with many people who don't have celiac disease buying the products because they believe they're easier to digest and healthier.
Photo: commons.wikimedia.org
Also of Interest

Join AARP: Savings, resources and news for your well-being
See the AARP home page for deals, savings tips, trivia and more