Helping Your Knees, Step-by-6,000-Steps
By Candy Sagon , June 16, 2014 08:00 AM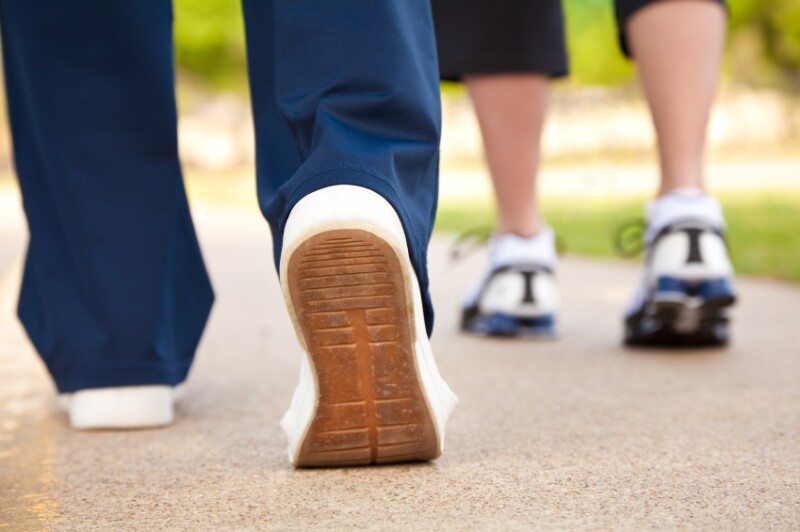 Walking is the best, easiest way to avoid or reduce the pain of arthritic knees, but up to now no one seemed to agree on just how much walking was needed to get the most benefit. Now a new study suggests it's less than we thought.
Even though several guidelines say at least 10,000 steps a day are optimal, researchers with Boston University say only 6,000 steps are needed - the equivalent of about 60 minutes of walking - to be able to keep moving as you age. For those who haven't been very active, even 3,000 steps a day, or about 30 minutes of walking, can help mobility.
>> Sign up for the AARP Health Newsletter 
An estimated 27 million Americans have arthritis, including a third of adults ages 45 to 64, and nearly 50 percent of those 65 or older, according to the Centers for Disease Control and Prevention.
Daniel White, a research assistant professor of physical therapy who led the study, said there are no standard recommendations on how far people need to walk to help with arthritis. "Do people really need to walk 10,000 steps a day? For people with arthritis, that could be a daunting task," he told NPR's health blog.
So he and his colleagues studied nearly 1,800 people in their 60s who either were at risk for osteoarthritis or already had it. The goal was to find out how much daily walking was really needed to reduce the risk of disability. The subjects, who were part of a national osteoarthritis study, used pedometers to track their daily number of steps for seven days between 2009 to 2011, and then again two years later.
The magic number turned out to be 6,000 steps. Those who achieved that amount - a total that included everything from a walk outside to the steps taken moving around the house - were less likely to have problems walking and climbing stairs, researchers said. Even those who didn't quite hit that mark showed improvement: For every 1,000 steps taken, mobility limitations were reduced 16-18 percent, the study found.
>> Get travel discounts with your AARP Member Advantages.
"It doesn't seem to make a difference where the steps come from," White told HealthDay; it's just a matter of getting up and moving around as much as possible.
The study was published June 12 in the journal Arthritis Care & Research.
How can you track how many steps you take each day? Using a pedometer is the easiest way. Prevention magazine recently rated the top nine pedometers, including the top-rated Yamax SW-200 Digi-Walker, considered the gold standard of pedometer accuracy and a best buy at $22.
Photo: asiseeit/iStock
Also of Interest

See the AARP home page for deals, savings tips, trivia and more