Is Anyone Tracking the Flu During the Shutdown?
By Candy Sagon, October 10, 2013 12:25 PM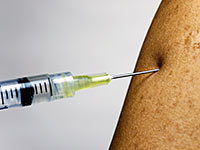 Normally during flu season the federal Centers for Disease Control and Prevention (CDC) lets us know the good and bad news, tracking how fast the flu is spreading, how severe it is and how well those flu shots are working. The information is especially important for figuring out next year's batch of vaccines.

But thanks to the ongoing government shutdown, the CDC hasn't been able to update its FluView since Sept. 21, and its influenza activity map hasn't been updated since May. The agency has recalled some of its furloughed workers to deal with the salmonella outbreak in California, but so far no news about its flu experts.

Infectious diseases specialist Gregory Poland, M.D., of the Mayo Clinic, who serves on the CDC's advisory committee on immunization practices, said normally the CDC would be getting "hundreds of thousands of respiratory specimens" from around the world, trying to determine if this is a potentially pandemic virus.

Without this information because of the shutdown, "we do not have a key ingredient with which to protect ourselves," he said.

The CDC's tracking also helps health officials figure out if contagious respiratory diseases that arise in other countries and spread here are really the flu or something else, possibly worse. These kinds of diseases move fast, said Poland, which is "why you need somebody really doing that real-time surveillance."

So where can we get information on this year's flu season? Here are some suggestions.

Google.org's flu trends displays flu activity across the U.S. based on Google search data.
FluNearYou creates separate flu maps based on a combination of user-contributed flu activity, CDC data (missing so far) and Google flu trends. At this point it shows only about 2 percent of its users reporting flu symptoms.
And if you haven't already gotten your flu shot, get one as soon as possible. With so little information about how severe this flu season will be, getting protected is even more important than usual.



Photo: Jeffrey Hamilton/Getty Images