Love Theater But Can't Hear It? Four Showstopping Solutions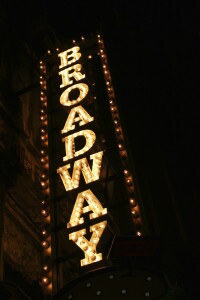 Do you love the theater but rarely go because you can't understand the dialogue or lyrics?
Fortunately there are several solutions to this problem beyond the familiar infrared headphones that many theaters offer. And those with hearing loss can even get discount tickets to many shows.
First, about infrared. Theaters that seat more than 50 people are required, under the Americans with Disabilities Act (ADA), to provide hearing assistance. Most offer infrared systems. If you have mild to moderate hearing loss and can manage without a hearing aid, you use a headset with earbuds provided by the theater. Earbuds are more effective than over-the-ear headphones — though some people are squeamish about using earbuds that others have used.
If you need to wear your hearing aid, you can use over-the-ear headphones. If you need to turn the sound up, however, the noise may seep out and bother your neighbors. Also, as activist Janice Schacter Lintz points out in an article about theater access, they also may not work if you have behind-the-ear hearing aids.
Get discounts on hearing aids with your AARP Member Advantage »
If you have hearing aids with a telecoil, you can use an infrared receiver worn around the neck, which will send the signal to your hearing aid. This is the best of the infrared solutions. The sound quality will be much clearer, simply because it will be closer to your ear. A telecoil is easily installed in a hearing aid at a cost of about $100, at the time of purchase or later. All but the smallest hearing aids can accommodate a telecoil.
All three types of infrared receivers are generally available in the lobby and are free, in exchange for your driver's license or a credit card as a guarantee.
The gold standard, for many, is induction looping. If your hearing aid has a telecoil, you don't have to wear any additional equipment. You simply flip the switch to the telecoil program. Unfortunately, few theaters have installed looping. In New York, the Nederlander theaters have taken the initiative, looping the Gershwin ( Wicked) and the Richard Rodgers. The Richard Rodgers is dark at the moment but will house the deliriously praised Hamilton, scheduled to begin previews in July. The Nederlander-owned Lunt-Fontanne ( Finding Neverland) is looped, and so is Lincoln Center's Vivian Beaumont Theater ( The King and I). Here's a link to looped venues in the New York area.
For some of us, the solution is captions. Sound Associates makes handheld caption devices, which are currently available for The Lion King, The Book of Mormon, Aladdin, Jersey Boys and Wicked. If infrared doesn't work for you and loops aren't available, and if these shows aren't your cup of tea, I recommend looking into TDF/TAP.
TDF, the Theater Development Fund, is a nonprofit organization aimed at making theater more accessible to underserved populations. It was founded in 1968 with a student discount program for The Great White Hope. In 1973 it opened the original TKTS booth in Duffy Square. Today there are three locations selling same-day discounted tickets.
In 1979 it started the Theater Access Project (TAP, now called Theater Accessibility Programs), which currently has 3,200 active members. Almost 40 percent of them have hearing loss. A play or musical is live captioned, with a small screen showing the captions usually to the right of the orchestra. TAP members can buy tickets at half price for these seats, which are always in the orchestra.
There's no fee to join TAP, though you must have proof of eligibility (a doctor's note or audiogram). Over the past few years I've seen dozens of plays and musicals on Broadway — and heard them! — thanks to TDF-TAP. This month alone, I've seen Skylight with Bill Nighy and Carey Mulligan, and will be seeing The Audience with Helen Mirren and Wolf Hall Parts 1 and 2. I could also see Hand to God, Gigi, The Book of Mormon, Kinky Boots and many others. Here's the current list of performances. The seats are half price and are always in a designated section in the orchestra.
In 2014, TDF/TAP offered 40 open-captioned performances, with about 100 seats per show available. Although the purchaser has to be a TAP member, with a documented disability, he or she may buy companion tickets for people without disabilities. TAP also offers special performances for the blind (with voice description, through headphones) and special seating for the physically handicapped.
The principal drawback is that there is generally only a single captioned performance per run. If you can't make it to that performance, you're out of luck. But the tickets are offered well in advance, and people who are interested could plan New York visits around the shows they want to see.
It's true that reading captions can sometimes require speed-reading abilities. The words flung at high speed back and forth between Carey Mulligan and Bill Nighy were a challenge not only to the captioner but also to those of us reading along. It can get dizzying when your eyes are darting from caption screen to stage and back. I've gotten completely lost in some captioned Shakespeare performances.
But if you love theater, and if you can't hear with the infrared devices, look into TDF/TAP. For more information about applying, go to the TAP page on the TDF website. TDF operates only in New York. There are looped theaters in some other cities, and if the theater has more than 50 seats it has to abide by the ADA rules and offer at least infrared devices.
If you live in a town that doesn't have a looped theater, look into your local chapter of the Hearing Loss Association of America and get involved in an advocacy campaign to promote looping. You can also contact HearingLoop.org, a national organization devoted to looping, for advice and help on advocating for hearing loops. You could also organize a group interested in theater that would be willing to foot the bill for a live captioner for a performance. You can read about captioning services here. The price is usually between $100 and $200 an hour.
AIStock Photo: Byfotos
Also of Interest

See the AARP home page for deals, savings tips, trivia and more