Mammogram Advice: Older Women Aren't Convinced
By Candy Sagon , April 22, 2013 07:00 AM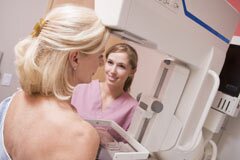 More than three years after a federally appointed panel of experts said most women don't need annual mammograms, a new study of mammogram rates shows that older women have pretty much ignored the advice.
According to an analysis of data from nearly 28,000 women, women over 40 continue to get the yearly screening, apparently unconvinced they should do it less often.
In fact, mammogram rates slightly increased overall, from 51.9 percent in 2008 to 53.6 percent in 2011, even though the change was not considered statistically significant, say researchers from Brigham and Women's Hospital in Boston and Harvard Medical School. Among women ages 50 to 74, screening rates rose the most, from 57.2 percent in 2008 to 59.1 in 2011.

"These recommendations - which are recommendations from one of the most prominent national bodies out there - have not been widely adopted," study author Lydia Pace, M.D., with the division of women's health at Brigham and Women's Hospital, told the Huffington Post.

The study was published last week in the online edition of the journal Cancer.
In 2009, the U.S. Preventive Services Task Force - a group of prominent medical experts appointed by the government - issued new guidelines that said women under 50 don't need routine annual mammograms and those age 50 to 74 could get screened every two years. Previously, the recommendation had been that all women aged 40 and older should get mammograms every one to two years.
The panel's guidelines, which didn't apply to women with high risk factors, were aimed at reducing harm and expense from unnecessary testing, overtreatment and anxiety over false positives, the panel said.
There was much controversy over the panel's report, especially because the American Cancer Society stuck with its advice that women age 40 and older should get screened annually.
Pace said the conflicting recommendations might explain why mammogram rates didn't decline after the new guidelines were announced. Doctors and patients may have also disagreed with the task force, she added, with women deciding that a false positive wasn't as bad as finding out they had missed a cancerous tumor by putting off a mammogram.
Or maybe it's just the fact that most insurance plans and Medicare cover an annual mammogram as a preventive care measure, so women figure "why not?"
As for the task force, it's expected to reevaluate its screening mammogram recommendations in 2014, HealthDay News reported.
Photo: Istockphoto
Also of Interest

Join AARP: Savings, resources and news for your well-being
See the AARP home page for deals, savings tips, trivia and more