New Health Test: Sit on the Floor. Now Get Up
By Candy Sagon , December 13, 2012 10:41 AM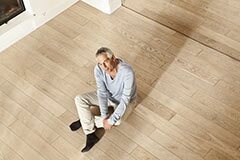 How long are you going to live? Here's one way to predict: How easily can you get up from sitting on the floor?
A new Brazilian study just published in the European Journal of Preventive Cardiology found that middle-aged and elderly adults who needed to use their hands and their knees to get up and down were almost seven times more likely to die within six years, compared with those who could get up and down without support, NBC News reports.
The study was conducted on 2,002 adults, ages 51 through 80, who were rated on a 10-point scale of how well they could rise - using the least amount of support from hands, knees and other body parts - from a sitting position on the floor. They were then followed for 6.3 years.
People who scored 0 to 3, meaning they needed the most help rising, were 6.5 times as likely to die during the course of the study as those who scored from 8 to 10, according to NBC News.
Researchers reported that of the 159 subjects who died during the follow-up phase, the majority of the deaths were among those who had the lowest scores - in other words, they had the most trouble getting up and down.
A video of the sitting test (with English subtitles) is posted on YouTube.
While the test indicates a person's muscle strength, there are "other very relevant issues including body flexibility, balance and motor coordination," Claudio Gil Soares de Araújo, a professor at Gama Filho University in Rio de Janeiro who worked on the study, told NBC News.
The test, he says, can provide a quick snapshot of how well a person can function independently. "The ability to rise from the floor is very much relevant for autonomy," Araújo said. "Imagine if your glasses went below the bed. You would need to sit on the floor to reach then and then you would need to rise."
Photo: Getty Images