New Pap Test Advice For Women Ages 30 to 65
By Candy Sagon, October 24, 2012 08:00 AM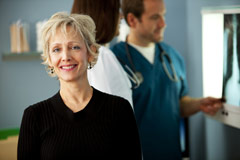 That annual Pap test to detect cervical cancer? Women no longer need to have one every year, according to the country's largest obstetrician-gynecologist organization, joining a growing consensus that most healthy women can wait three to five years between tests if they have no other problems or risk factors.

The Associated Press reports that the new advice from the American College of Obstetricians and Gynecologists is that women ages 21 to 29 whose Paps show no sign of trouble can wait three years between tests; for healthy women ages 30 to 65, the recommendation is for a Pap plus a test for the cancer-causing HPV virus. If both show everything's fine, these women can wait five years for further screening.

In addition, women 65 and over can end screening if their previous Pap tests have been normal.

The new guidelines join those issued earlier this year by the U.S. Preventive Services Task Force. The American Cancer Society and other medical groups have released similar recommendations.

The biggest change in the guidelines is the five-year recommendation for women in the 30-to-65 age group if they get an HPV test along with their Pap exam, the ob-gyn group noted. If HPV testing is unavailable, women under 65 should get the Pap-only screening every three years.

Part of the reason doctors say women can wait longer is that cervical cancer grows slowly. Women who get regular Pap exams, even under the newly recommended schedule, would still be able to detect cancer early enough to treat it before a tumor forms, the experts say.

Convincing women they no longer need a yearly cervical cancer test may be more difficult, however.

David Chelmow, M.D., who led the development of the doctors' guidelines, acknowledged this in a statement, saying, "It will take some time and a lot of effort to re-educate everyone that the annual Pap is no longer the standard of care."

Widespread Pap screening has lowered the cervical cancer rate in the U.S. by more than 50 percent over the past 30 years, the American College of Obstetricians and Gynecologists said. Most cervical cancers in the country occur among women who were never screened or inadequately screened.

In other health news:

Discount prescription drug coupons no bargain for consumers, insurers. A physician writes in USA Today that discount prescription drug coupons may seem like a bargain to consumers, but they really only benefit drug companies and not patients or insurers.

Pharmacy linked to meningitis outbreak shipped drugs without verifying sterility.  The Washington Post reports that the Massachusetts compounding pharmacy linked to the deadly meningitis outbreak shipped steroid injections before verifying their sterility, state health officials announced. Reuters also reports that newly released state documents show that the pharmacy escaped harsh punishment from health regulators several times in the years leading up to the health crisis, raising questions about oversight of the customized-drug-mixing industry.

Photo: Getty Images