Sleep Disorder Linked to Brain Disease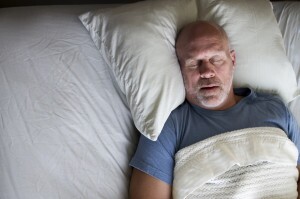 Thrashing about while you're asleep may be a sign of something more troubling than mere restlessness: It could be a predictor of brain disease.
A new study suggests that 80 to 90 percent of people who suffer from rapid eye movement (REM) sleep behavior disorder will eventually develop Parkinson's or another brain disease.
What's REM sleep behavior disorder? It's a condition that causes people to act out vivid, intense, even violent dreams. People who have it often yell, punch and kick in their sleep as they fight their own nightmares. It mainly affects men over 50.
>> Sign up for the AARP Health Newsletter
This relatively rare sleep disorder is the "best method of predicting the onset of brain disease," John Peever, M.D., lead author of the study and associate professor at the University of Toronto, told Forbes magazine.
Peever says these findings could be used to help develop drugs that not only treat patients with this condition but also prevent more serious brain diseases from developing. His research builds on a theory that brain degeneration first affects areas of the brain that control sleep - before attacking parts of the brain that lead to diseases such as Parkinson's and other forms of dementia.
>> Get discounts on health services with your AARP Member Advantages.
Scientists have known for years that lack of sleep ages the brain. Fascinating recent research has found that the brain sweeps away waste during sleep and that poor-quality sleep is linked to the buildup of toxins that contribute to Alzheimer's disease. Peever says he hopes the results of his study lead to earlier and more effective treatment of brain diseases.
The research was published in the latest issue of Trends in Neurosciences.
Photo: nicolesy/iStock

Also of Interest

See the AARP home page for deals, savings tips, trivia and more