The Coolest Cones: Making Healthy Ice Cream Choices
By Candy Sagon , August 03, 2011 08:00 AM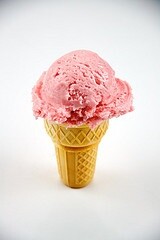 Officially, July was National Ice Cream Month, but seriously -- shouldn't it at least be extended to the searing, sizzling month of August? Yeah, I thought so, too.
So in honor of National Extended Ice Cream Month, let's talk about which frozen treats are the healthiest.
Here's the inside scoop:
The most fattening ice creams: Newsweek has a list of the six worst offenders. At the top -- Häagen-Dazs Chocolate Peanut Butter at 360 calories and 24 grams of fat in a mere half-cup. In fact, two Häagen-Dazs flavors and two Ben and Jerry's flavors make the list, along with Coldstone Creamery Cookie Batter. Check out lower-fat brands like Turkey Hill and Edy's for similar flavors that are far healthier.
Best low-fat ice creams: Prevention.com offers their six favorite low-fat frozen desserts, from Stonyfield Farm Organic Nonfat Frozen Yogurt to Breyers Fat Free French Chocolate to Ciao Bella Blood Orange Sorbet.
New product this summer: The AARP Bulletin staff recently test-tasted a new all-natural, low-sugar, low-calorie frozen dessert called Arctic Zero. An option for those on low-glycemic or diabetic diets, it's made with whey protein instead of dairy products, so it's also lactose-intolerant-friendly. A half-cup of vanilla has 0 grams fat, 45 calories and 6 to 7 grams sugar. One of their chocolate-coated bars (our favorite) has just 5 grams fat, 5 grams sugar and 85 calories.
Help with choosing: A slide show on EatingWell.com looks at the healthy and not-so-healthy ice creams in the typical supermarket. Below is a rundown of some of their top tips and nutrition counts, based on half-cup samples of plain vanilla. Keep in mind that a half-cup scoop is about the size of a small peach; if you're eating a grapefruit-size portion, better double those numbers:
The unhealthiest choice -- super-premium ice cream: These are ice creams like regular Haagen-Dazs or Ben and Jerry's or any other brand that says "super premium" on the label. The primary ingredient in these ice creams really is cream, which is why they have the highest fat content. Vanilla super-premium contains 8 to 10 grams of saturated fat per half-cup serving, and 200 to 250 calories.
Slightly better -- regular premium ice cream: The standard ice cream. Some of the cream is replaced with milk, which gives it about half the fat of super-premium. A half-cup of vanilla has 4 to 5 grams saturated fat, and 130 to 150 calories.
Best light choice -- slow-churned: This type of ice cream, which can be called slow-, double- or smooth-churned or churned light, has half the fat and one-third fewer calories than premium ice cream, but scores high on flavor and texture. It uses a new technology that manipulates the size of fat globules and ice crystals to give a creamy consistency without adding excess fat or air. (Edy's and Dreyer's first introduced it in 2004.) A half-cup of vanilla contains 2 grams saturated fat and 100 to 110 calories.
The healthiest choice -- frozen yogurt: Calorie- and nutrition-wise, nonfat frozen yogurt is the best choice. It contains a small amount of calcium, plus some probiotics and active cultures that are good for the digestive tract. A half-cup of nonfat vanilla fro-yo contains 0 grams saturated fat and 90-100 calories.
Photo credit: TheCulinaryGeek via flickr.com