The Secret To Weight Loss? Pen and Paper
By Candy Sagon, July 16, 2012 08:17 AM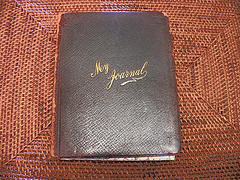 The most effective secret to weight loss for older, overweight women? Keeping a food diary.

That was the surprising result of new research from the Fred Hutchinson Cancer Research Center in Seattle that found that women who kept food journals lost six pounds more than those who didn't.

The researchers also found that skipping meals was a bad idea. Older women who skipped meals lost almost eight fewer pounds over a year than the women who did not.

And the third tip that helped women lose weight: Not eating out in restaurants for lunch.

Women who ate for lunch weekly lost on average five fewer pounds than those who ate out less frequently, probably because they had less control over ingredients and cooking methods, as well as larger portion sizes, the researchers wrote.

The biggest factor in the study, however, was the food journal, reports the Los Angeles Times.

The women who faithfully wrote down everything they ate lost nearly 13 percent of their weight, as compared with below-average journal keepers, who lost an average of 8.2 percent.

Keeping a food diary helped the 123 postmenopausal women in the study, ages 50 to 75, get a clearer picture of exactly what they were eating each day, said lead researcher Anne McTiernan, M.D.

"Most of the women were very surprised at what they were eating," McTiernan told the Times. "When they went through the process of doing their journals and met with a dietitian, they were really surprised at how many calories they were taking in."

Even eating a muffin for a snack might comprise a third of the calories a woman should consume in a day, she said.

The goal for the women in the study was to lose 10 percent of their weight. The women were divided into two groups -- diet only, and diet and exercise -- and monitored from June 2007 to August 2008.

While the women in the exercise group lost more weight than the diet-only group, it wasn't by much. By the end of the study, all the participants had lost an average of 10 percent of their starting weight.

The study was published online in the Journal of the Academy of Nutrition and Dietetics.

In addition to being taught how to measure portions or estimate how much they were eating when measuring wasn't possible, study participants were given the following tips for keeping a food journal:

Be honest - record everything you eat
Be accurate - measure portions, read labels
Be complete - include details such as how the food was prepared, and the addition of any toppings or condiments
Be consistent - always carry your food diary with you or use a diet-tracking application on your smart phone.
A food diary doesn't have to be anything fancy, McTiernan added. "Any notebook or pad of paper that is easily carried or an online program through a smart phone or tablet should work fine."

In other health news:

Walking, exercise helps memory, thinking in older adults. Bloomberg News reports that simple exercise improved memory, thinking in older adults in several new studies that suggest physical activity offers a key strategy in slowing mental decline.

FDA spied on scientists critical of agency's review procedures. According to the New York Times, the Food and Drug Administration instigated a wide-ranging surveillance operation against a group of its own scientists after a bitter dispute between the scientists and their bosses over the scientists' claims that faulty review procedures at the agency had led to the approval of medical imaging devices for mammograms and colonoscopies that exposed patients to dangerous levels of radiation.

One in 5 women undergoing breast-conserving surgery need second operation. The Los Angeles Times reports that one in five women who undergo breast-conserving surgery for cancer instead of a mastectomy require a second operation within three months, according to new British research.

Photo credit: basykes via flickr