The Year's 9 Highest-Calorie 'Xtreme' Restaurant Meals
By Candy Sagon, July 31, 2014 06:00 AM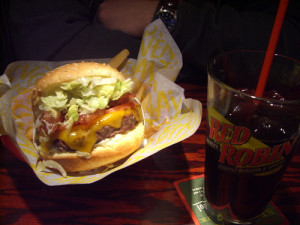 How high can those numbers go? That's the question each year as the nutrition watchdog group Center for Science in the Public Interest (CSPI) spotlights the restaurant-chain meals that pack in the highest calorie, fat and sodium counts.

And just when you think those numbers can't soar any more, consider this year's "Xtreme Eating" awards: At the top spot is a 3,540-calorie Red Robin Gourmet Burgers "Monster" meal with a double burger, "bottomless" fries and Monster shake. The sodium alone represents four days' worth of salt. Eating this meal, CSPI said, is "like eating seven McDonald's Double Cheeseburgers washed down with a quart of Coke." You'd need 12 hours of brisk walking to burn off the calories.

>> Sign up for the AARP Health Newsletter 

There's also that perennial stuff-your-face favorite, The Cheesecake Factory. This year CSPI awarded the chain a special XXXtreme Eating award for taking three of the nine spots on the awards list, including for its Bruléed French Toast with bacon, which hits 2,780 calories. (Don't blame the 200-calorie side of bacon; it's the custard used to make the French toast that's the main culprit.)

Back in 2007, when CSPI first began singling out these nutritional offenders, "we were shocked to see 1,500-calorie entrées," the group said in a statement. "This year, nearly all of our 'winners' hit (or just missed) the 2,000-calorie mark. And a few doozies topped 3,000 calories. You could take half home and still overeat."

After several years of making the high-calorie Xtreme list, The Cheesecake Factory has reformulated some of its dishes, after founder and CEO David Overton complained to the Wall Street Journal last year that he "was sick of winning that prize." But the menu still sports many top contenders, including this year's Farfalle with Chicken and Roasted Garlic (2,410 calories), and Reese's Peanut Butter Chocolate Cake Cheesecake (1,500 calories).

Obviously, these are the most over-the-top entrées from these chains, and company officials pointed out that consumers do have other options. The Cheesecake Factory has a 50-item low-cal menu, and health-conscious customers at Red Robin could just as easily order a lettuce-wrapped turkey burger with a side of broccoli and a light lemonade for 540 calories, USAToday reported.

>> Get travel discounts with your AARP Member Advantages.

Plus, calorie counts soon will be coming to chain- restaurant menus, thanks to the health care reform legislation signed in 2010. The menu-labeling regulations are currently being finalized by the Food and Drug Administration and the White House - and then there will be no hiding those four-figure-calorie tabs.

In the meantime, these are some of the winners of this year's Xtreme awards. For the full list, click here.



The Cheesecake Factory's Farfalle with Chicken and Roasted Garlic features mushrooms, tomato, peas, pancetta and caramelized onions, but the cream sauce helps bring its caloric payload to 2,410 calories, as well as three days' worth of saturated fat (63 grams) and 1,370 milligrams of sodium.
Red Robin Gourmet Burgers had the single unhealthiest meal - a "Monster"-size A.1. Peppercorn burger, Bottomless Steak Fries, and Monster Salted Caramel Milkshake, which has a grand total of 3,540 calories, three and a half days' worth of saturated fat (69 grams) and four days' worth of sodium (6,280 milligrams). CSPI estimates that the dish has 38 teaspoons - almost three-quarters of a cup - of added sugar. You'd need 12 hours of brisk walking to work it off.
"The Big Slab" of St. Louis-Style Spareribs at Famous Dave's yields 1.5 pounds of pork. Add fries, beans and a corn bread muffin, and the meal has 2,770 calories, 54 grams of saturated fat, 4,320 milligrams of sodium and 14 teaspoons of sugar.
Joe's Crab Shack's The Big "Hook" Up platter is a bounty of fried foods, including Great Balls of Fire ("seafood and crab balls full of jalapeños and cream cheese coated in panko breadcrumbs ... served with ranch"), plus fish-and-chips, coconut shrimp, crab-stuffed shrimp, hush puppies and coleslaw. The entire meal has 3,280 calories, 50 grams of saturated fat and 7,610 milligrams of sodium. Push a lawn mower for eight hours to get rid of those calories.
The Cheesecake Factory's Bruléed French Toast with bacon has just two slices of French toast, but they pack in five times more saturated fat than you should consume in an entire day, thanks to the custard the bread is soaked in before being panfried. The meal racks up 2,780 calories, 93 grams of saturated fat, 2,230 milligrams of sodium and 96 grams of sugar. Get ready to swim laps for seven hours to burn it off.




Photo: Kuromi2008/flickr



Also of Interest



See the AARP home page for deals, savings tips, trivia and more