Valerie Harper's Rare Brain Cancer: What Caused It?
By Candy Sagon , March 06, 2013 02:20 PM
Actress Valerie Harper, who's been diagnosed with terminal brain cancer, has a rare type that often spreads from another form of cancer, such as breast, melanoma or, in Harper's case, lung cancer - which she battled in 2009.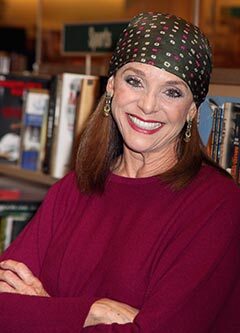 Called leptomeningeal carcinomatosis, it affects about 5 percent of cancer patients and the first signs are "similar to stroke symptoms," including trouble speaking, numbness of the face, double vision, or difficulty swallowing, says Keith L. Black, M.D., professor and chair of the Department of Neurosurgery at Cedars-Sinai Medical Center in Los Angeles.
Black, who is not involved in Harper's care, says it's important that patients who have had cancers that could potentially spread to the brain "quickly alert their physicians if they develop any neurological symptoms."
Harper had told People magazine that she had experienced numbness in her jaw before tests revealed the cancer.
Leptomeningeal carcinomatosis is not a brain tumor, but an invasion of tiny cancerous particles in the fluid surrounding the brain and the spine, Isabelle Germano, M.D., director of the brain tumor program at Mt. Sinai Medical Center in New York, told FoxNews.com. These deadly specks damage the thin membrane that protects the brain and spinal cord, called the meninges.
The cancer is "literally sprinkled all over" the brain, Anders Cohen, M.D., chief of neurosurgery and spine surgery at The Brooklyn Hospital Center in New York, explained to CBSNews.com. He said doctors sometimes refer to this on an MRI scan as "sugar-coating" the brain.
Treatment for Harper's condition can only slow the inevitable spread of the disease, Jeremy Rudnick, M.D., Harper's neuro-oncologist at Cedars-Sinai, told People. He likened it to slowing down a 100 mph train to 5 to 10 mph. Without any treatment, a patient has weeks to live. Harper has been told she has about three months.
Harper, famous as the spunky best friend Rhoda Morgenstern on The Mary Tyler Moore Show, told People she was stunned after receiving her diagnosis, but realized she could help spread awareness for the rare condition. "This could draw more attention to cancer research. I think there's an opportunity to help people," Harper told the magazine.
Photo: Paul Redmond/WireImage/Getty Images
Also of Interest

Join AARP: Savings, resources and news for your well-being
See the AARP home page for deals, savings tips, trivia and more