Want Fries With That Test Tube Burger?
By Candy Sagon , August 05, 2013 04:21 PM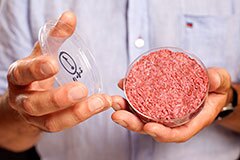 It's a burger that cost $330,000 and the nicest thing they could say about it was, "It tastes close to meat."
I used to say that every time I ate in the school cafeteria, but this burger was different: It's the very first meat grown entirely in a lab.
Dutch scientists, bankrolled by Google cofounder Sergey Brim, wanted to come up with a way to make meat for the world's growing population that didn't involve the environmentally and economically costly practice of slaughtering millions of animals. So instead, they grew meat from cattle muscle stem cells.
It took several years of research, but on Monday, a five-ounce patty was fried up with lots of butter in a pan by an English chef in London and served to two volunteers.
The butter was needed because the all-beef Frankenburger has no fat, which pretty much explains the tepid reactions of the tasters.
The patty was made from 20,000 tiny strips of muscle protein, mashed together just like your Mom might with breadcrumbs, salt and red beet juice for color, the Associated Press reported.
The volunteers declined the accompanying bun, lettuce and sliced tomatoes so they could concentrate on tasting the meat. That might have been a mistake. "I miss the salt and pepper," said Austrian nutritionist Hanni Ruetzler.
Josh Schonwald, a Chicago-based author of a book on the future of food, said, "the bite feels like a conventional hamburger" but that the meat tasted "like an animal-protein cake," according to the New York Times.
Even Mark Post, a professor at Maastricht University and the leader of the research team, confessed that the burger could have used a nice topping of his favorite aged Gouda cheese.
"That would have enhanced the whole experience tremendously," he told the Associated Press.
At this point, flavor and texture are secondary. The fact that the burger was edible was the goal. "Current meat production is at its maximum -- we need to come up with an alternative," Post said.
According to Reuters, the World Health Organization estimates that world demand for meat will outstrip meat production by 2030. Conventional meat production also uses up large amounts of natural resources, such as water, land and energy, as well as producing large amounts of methane and other greenhouse gases that affect the climate.
The animal-rights group PETA said it supports research into lab-made meat.
"Instead of the millions and billions (of animals) being slaughtered now, we could just clone a few cells to make burgers or chops," PETA president Ingrid Newkirk told the Associated Press.
Even if vegetarians shun a test-tube T-bone, Post doesn't mind. His goal, the Times reported, is to "let beef eaters eat beef in an environmentally friendly and ethical way."
But don't forget the ketchup.
Photo: David Parry/PA Wire via AP Images
Also of Interest

Join AARP: Savings, resources and news for your well-being
See the AARP home page for deals, savings tips, trivia and more