Why Angelina Jolie Chose to Have Her Ovaries Removed
By Candy Sagon , March 24, 2015 04:02 PM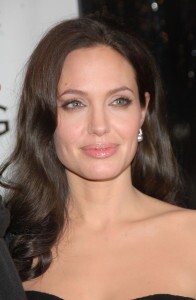 Nearly two years after announcing she had gotten a preventive double mastectomy and encouraging women to get tested for the BRCA1 breast cancer gene, actress and director Angelina Jolie says she has had her ovaries and Fallopian tubes removed to reduce her risk of ovarian cancer, the disease that killed her mother at age 56.
As she did in 2013, Jolie wrote an essay for the New York Times explaining that she carries a gene that gives her "an estimated 87 percent risk of breast cancer and a 50 percent risk of ovarian cancer." In addition to her mother, both her aunt and her grandmother died of cancer.
Jolie, 39 and the mother of six, said she made these preventive decisions so that "my children will never have to say, 'Mom died of ovarian cancer.'"
Her goal in writing about these preventive surgeries, she said, is to help other women understand their options. "It is not easy to make these decisions. But it is possible to take control and tackle head-on any health issue," she wrote.
Get daily health news alerts — AARP Health Newsletter »
Her newest surgery triggered an avalanche of Internet buzz and news coverage, similar to her earlier mastectomy decision, which spurred many women to be tested for the BRCA1 gene mutation. A study by the AARP Public Policy Institute that looked at 6.5 million health insurance claims in 2013 by women age 35 and older found a 40 percent jump in testing after Jolie's announcement.
"A Nobel laureate could give the same message, and it might reach only a handful of people," David Fishman, director of the Mount Sinai Ovarian Cancer Risk Assessment Program in New York City, told the Washington Post. "Angelina is using her celebrity in a heroic way, and she's going to reach millions of people worldwide."
Jolie underwent the ovarian surgery — called a laparoscopic bilateral salpingo-oophorectomy — last week. Doctors found a small benign tumor on one ovary but no sign of cancer in any of the tissues.
She had been planning to have the procedure for some time, readying herself "physically and emotionally" for the forced menopause it would cause, but blood test results indicating possible early cancer convinced her to do it sooner.
She emphasized that she didn't choose the surgery only because she has the BRCA1 gene mutation: "I want other women to hear this. A positive BRCA test does not mean a leap to surgery. There are other options." She urged women "to learn about the options and choose what is right for you personally."
Ovarian cancer causes more than 14,000 deaths annually and is the deadliest of the female reproductive cancers. It's also difficult to detect in its early, most treatable stage. The traditional CA-125 blood test to detect tumor growth misses early ovarian cancer 50 to 75 percent of the time, Jolie said her doctor told her.
Get health and wellness discounts with your AARP Member Advantages. »
Ovarian cancer typically occurs after menopause, but a family history of the disease puts women at a higher risk, as do mutations in the BRCA1 and BRCA2 genes. Although the average woman's lifetime risk of ovarian cancer is less than 2 percent, for those with the BRCA1 gene, like Jolie, it shoots up to between 35 and 70 percent, according to the American Cancer Society.
Jolie is taking hormone replacements, but she currently is in menopause. Still, she writes, "I feel at ease with whatever will come, not because I am strong but because this is a part of life. It is nothing to be feared."
Photo: EdStock/iStock
A lso of Interest

See the AARP home page for deals, savings tips, trivia and more.