Betty Friedan: A Pioneer of Modern Feminism
By
MBlyth@aarp.org

, February 19, 2013 09:37 PM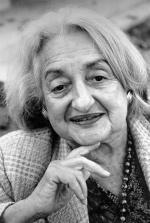 Fifty years ago this month, The Feminine Mystique by Betty Friedan was published. Even the husband she divorced conceded that Betty "almost single-handedly changed the course of human history. It took a driven, super-aggressive, egocentric, almost lunatic dynamo to rock the world the way she did."

Yes, that was Betty. And that was The Book that launched the modern women's movement.

In her treatise, Betty described what she called "the problem that has no name": the feelings of isolation, boredom and uselessness that college-educated wives and mothers, especially, felt at a time when few middle-class women worked. Betty believed women were as capable as men and needed to get out of the house and into the workplace. But she claimed that psychologists, marketers and the media of the time-especially magazines aimed at women-made women think their only appropriate role was as a happy, self-sacrificing housewife.

The Book caused a firestorm of controversy, but women everywhere were deeply affected by it. At the time, I was a very young editor of a teen magazine, and I know it affected me. Betty subsequently founded the National Organization for Women (NOW), which modeled itself after the civil rights movement and began demanding women's rights using some of the same tactics. Once, Betty organized a strike for equality and led 50,000 women on a march down Fifth Avenue. Helen Gurley Brown of Cosmopolitan magazine was among the marchers.

I came to know Betty when I became the executive editor of Family Circle, then the largest women's magazine in the world. She was a brilliant woman, but also very difficult, and I suspect quite insecure. She was not attractive, and Gloria Steinem, the other great feminist of that era, was quite pretty. I actually suspect that difference, rather than their differences about philosophical interpretations of modern feminism, was the reason they never got along. Whereas Gloria was considered interesting and exotic, Betty was viewed by many as too strong and too abrasive. Interestingly, the genteel, calculating and politically shrewd Phyllis Schlafly managed to end Betty's-and Gloria's-campaign to get an Equal Rights Amendment passed.

As she grew older, Betty remained difficult. She taught in California and in Washington, D.C. She never was comfortable driving, and was always demanding rides from her cowed students. She was also well-known for doing the unexpected. In 1994, I met her at a United Nations conference in Beijing. I was an American delegate and she was a guest of an NGO. She invited me to an elaborate dinner where she was being honored and chowed down heartily, refusing to speak until every morsel of her Peking duck was consumed. When she finally got up to give her talk, she blasted the women there for not being nicer to men, saying it was much harder to be a man now. No one was expecting that.

Yes, Betty was an original. So many women told her "You changed my life." I'm sure I did. And, in fact, 50 years later, whether women have read her book or even know her name, there's little doubt that Betty Friedan changed the lives of every female in this country.

It was an honor to know her.