Nelson Mandela: 5 Musical Tributes to a Remarkable Hero
By Patrick Kiger, December 5, 2013 04:56 PM
Nelson Mandela, who died Dec. 5 at age 95 in Johannesburg, South Africa, was one of the most remarkable heroes of the 20th century. He organized and led armed resistance against South Africa's apartheid regime, which had disenfranchised 23 million black citizens and forced them to live in abysmal poverty, and endured decades of brutal imprisonment as a result. But after his release in 1990, he worked to negotiate a peaceful end to institutionalized racism - an achievement that earned him a share of the 1993 Nobel Peace Prize - and eventually became his nation's first black president from 1994 to 1999.

Poll: What Word Best Describes Nelson Mandela's Legacy?

Mandela's resolve during his years of confinement inspired numerous musicians, who used their medium to inform listeners about his cause and to build public pressure against the South African regime. Perhaps the highest-profile tribute came from Stevie Wonder. After accepting the Academy Award for "I Just Called To Say I Love You" in 1985, Wonder sa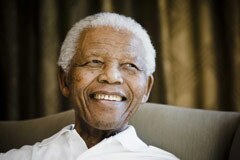 id that he was accepting the award for the seemingly apolitical love song ''in the name of Nelson Mandela,'' which led the South African regime to ban the song from being played on radio there.

>> Get entertainment and dining discounts with your AARP Member Advantages.

Other top artists of the 1980s actually wrote songs about the leader who had become a hero to them. Here are five of the best:


The Specials: "Free Nelson Mandela" - In the early 1980s, ska revivalist band The Specials - alternatively known as Special AKA - had an avid following on college radio, and leveraged that to raise awareness of Mandela's cause with "Free Nelson Mandela" in 1983. In this live performance on British TV, the group is joined by Elvis Costello and Ranking Roger of the English Beat.


Carlos Santana: "Mandela" - The virtuoso guitarist is seen here on the TV program Night Music in 1988, performing his instrumental tribute to Mandela with jazz saxophonists David Sanborn and Wayne Shorter.


Simple Minds: "Mandela Day" - The Scottish synth-pop group, which had a huge hit in the mid-1980s with "Don't You (Forget About Me)," wrote this song for the 1988 70th birthday tribute to Mandela that was held at London's Wembley Stadium.


Tracy Chapman: "Freedom Now" - Though Mandela isn't mentioned by name in the lyrics, folksinger Chapman dedicated the song to the South African activist at a 1988 benefit performance for Amnesty International, and the lyrics — about a jailed leader — seem to be pretty clearly about him: "They throwed him in jail /And they kept him there / Hoping his memory'd die / That the people forget how he once led / And fought for justice in their lives."


Maze featuring Frankie Beverly: "Mandela" - The R&B stars released this song on their Silky Soul album in 1989. The lyrics chide officials of the South African government for keeping Mandela behind bars: "When will they do what is right so the world can see?" The following year, they would.




Photo: Theana Calitz/Getty Images



Also of Interest



See the AARP home page for deals, savings tips, trivia and more