Tools to Shore Up Retirement Savings
By Carole Fleck , January 23, 2014 05:00 PM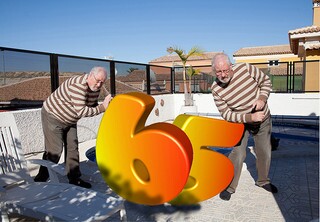 The road to retirement may seem uncomfortably short, particularly if you're in your 50s and haven't saved much.
The latest Federal Reserve data shows that households with people ages 55 to 64 have accumulated a median $120,000 in retirement savings. That amounts to about $400 to $500 a month in income, according to a CNBC report, on top of the average monthly Social Security benefit of $1,294.
If you're 10 to 15 years out from your projected retirement date, it's not too late to commit to a retirement savings strategy. Shott Miller, senior vice president at Merrill Lynch Wealth Management, says the first step is to create a basic plan.
>> Sign up for the AARP Money newsletter
Record every dime you spend for three months - including expenditures like a cup of coffee, a tank of gasoline, lunches purchased from your work cafeteria and the like - to see where your money is going. Then figure out how to cut costs to carve out savings. Each month, shave your costs a little bit more and add those funds to your retirement account.
Next, Miller says, figure out what your income and expenses are likely to be in retirement. A number of diagnostic tools are available online to help you calculate those figures.
The Center for Retirement Research at Boston College has a cool tool that asks you to plug in data - your age, income, monthly retirement savings contributions, monthly Social Security benefit, pension benefit (if you have one), the equity in your home, its market value and whether you'd downsize. Based on your assumptions, the tool calculates the monthly income you'll need to maintain a similar lifestyle in retirement, and whether your spending patterns today enable you to meet that goal. If not, it offers suggestions to help you narrow the gap. Among them: working longer, downsizing, and spending less today and in retirement.
Here's the scenario I created:
- Unmarried worker, age 55
- Earnings: $80,000 annually
- Retirement savings: $120,000
- Monthly retirement plan contributions: $600
- Age at retirement: 66
To maintain a similar lifestyle in retirement, this worker will need $4,300 a month in income. He's on track to accumulate only $2,900 a month - a gap of $1,400 if no steps are taken today to address that.
AARP also offers a number of tools to help create a financial path to retirement. A retirement savings calculator helps you figure out your income needs based on projected longevity and other factors. It also offers a strategy if you're falling short on savings to meet your goals. A health care costs calculator lets you see what your out-of-pocket costs could be during retirement. Too often, workers don't consider how their out-of-pocket medical expenses will affect their retirement - and that could be a costly mistake.
I used the calculator, choosing two chronic conditions from a database of 82 possible diseases and disorders that I thought I might encounter in my later years. The overall cost in retirement: $698,000. My share: $198,000. Now I'm considering adding a panic and anxiety disorder to my list of possible conditions.
If you need help paying for your prescription drugs, food or home heating bill, AARP's benefits checkup tool can help you navigate through the maze of public assistance programs that may be available in your state.
>> Get discounts on financial services with your AARP Member Advantages.
Social Security benefits, and when to take them, is another important piece of the retirement planning puzzle. Go to the Social Security Administration website for the tool that shows you how much of a difference delaying your benefit can make in boosting your monthly payout. Conversely, if you take your benefit early at age 62, you'll lose about one-quarter of the amount you'd get at age 66, for example.
Carrying high credit card balances can bust a budget pretty quickly when you're living on a fixed income. According to a report by the public policy group Demos and AARP's Public Policy Institute, middle-income adults age 50 and older were carrying more credit card debt on average than younger people in 2012 - an average balance of $8,278, compared with $6,258.
Fortunately, a number of tools are available to help you find your way to debt-free status. Check out Bankrate.com's calculator, which shows you the fastest and cheapest way to pay down those balances. CNN and CreditKarma.com also offer tools to help you with debt relief. Perhaps consolidating your debt is the way to go. Find out with AARP's debt consolidation calculator.
As AARP's resident retirement expert Jean Setzfand says: It's time to take the guesswork out of planning for retirement.
Photo: Keith Williamson/flickr
Also of Interest

See the AARP home page for deals, savings tips, trivia and more