A Modern Family: Bringing Generations Together for Dinner
By Laura Hahn, November 20, 2012 10:05 AM
In the three years I've known Arthur, we've never once sat at his dinner table - until last Thursday.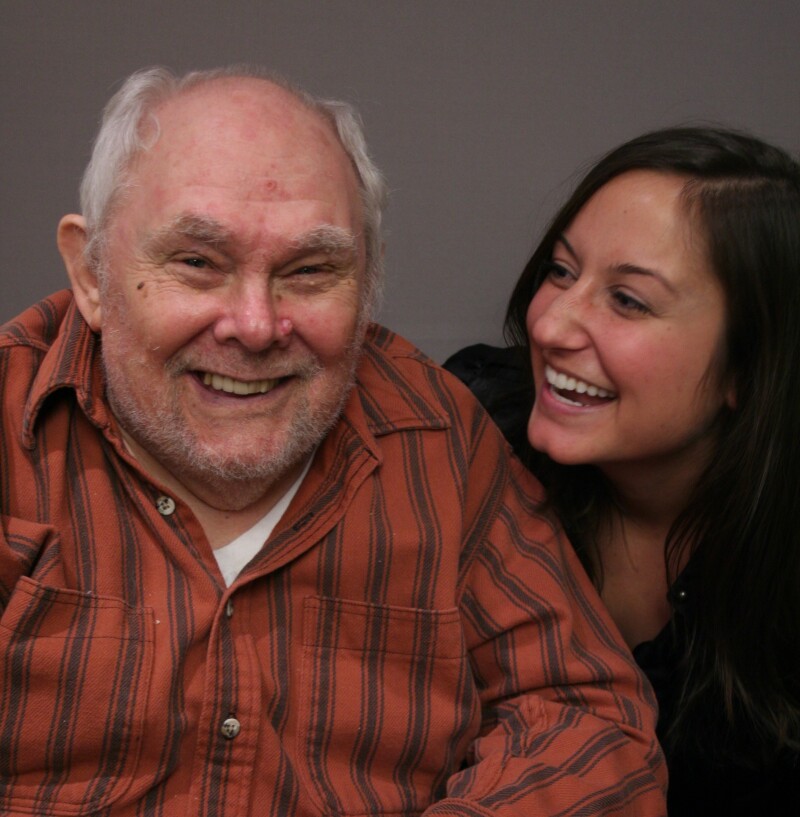 We've eaten together plenty, don't you worry. Food is very much a part of our visits. On my walks from work to his apartment, I usually pick up something for us to share - Vietnamese summer rolls, maybe, or cheese and a baguette. If the weather permits, we go to the farmer's market nearby or to the food trucks lined up down the block. Arthur loves "everything" and so do I. (Except cheesecake. Sorry, Arthur!)

But for as many times as we've enjoyed food together, we've always eaten somewhere other than the dining room, I realized Thursday, a week before Thanksgiving, as timing would have it. Two friends of mine were coming over for pizza at his place, so eating from a TV tray in the living room, per his routine, was out of the question. I cleared a space at his table, and wheeled him over.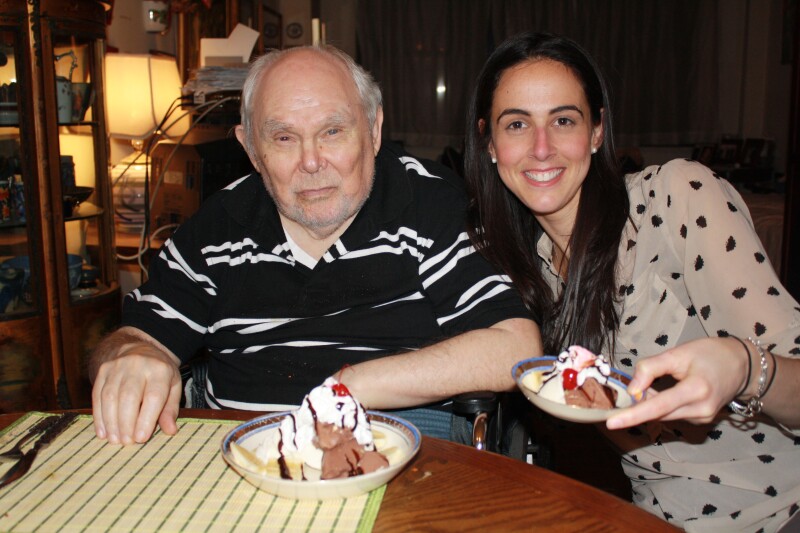 The dinner was a test-run of a program my DOROT Young Professionals group is piloting this year. DOROT's mission is to enhance the lives of the elderly, primarily those who are homebound. The idea of our program is to bring together seniors and people in their 20s and 30s for small, casual dinner parties. Meals are on us, thanks to the funds we've raised, and they take place in the senior's home. The hope is to make it easy to get together and enjoy one another's company. It's a party for everyone with the goal of reminding older adults that we care about them and they're not alone. It's also a source of healing, honoring the grandparents we can no longer visit. All three of us at Thursday's dinner had lost our grandfathers recently.


Arthur, in typical Arthur fashion, loved "everything": the pizza, the salad and the banana splits, of course, but also the background music (Chicago and West Side Story soundtracks), the iPhone photo sharing and the conversation. He bonded with Shira over Superstorm Sandy - she, too, lost power for the week - and as I prepped dessert, she introduced him to " Call Me Maybe" with a video of her three-year-old niece belting it out. (Related: Have you watched AARP's version? I'm still obsessed.)
Some things we learned for the dinner parties ahead:
Keep the groups small: Three young professionals and one senior seemed like just the right number. Arthur was at his best when engaging one-on-one, as we took turns washing dishes and plating food.
Fill everyone in: Arthur has dementia, so it's sometimes difficult for him to answer specific questions like, "What's your favorite play?" I should have given my friends a heads-up on that. Moving forward, we'll encourage groups to address issues like hearing problems, recent loss of a loved one, etc.
Plan to eat, then visit: During the meal, Arthur was focused on eating. We found that after dessert was really the best time to talk. Everyone is different, of course, but this is definitely something to consider.
Bring flowers: Or some sort of gift to leave with the senior. "Here, these are so you'll think of us when we're gone," Shira said, placing a vase of flowers on the table. "I will," he said. "Or just don't leave?"


There's something special about eating around the dining room table - the act of coming together, of appreciating the ideas of home and tradition. It's a ritual families should believe in and practice, researchers say. My DOROT friends and I say let's remember our seniors, too - this Thursday on Thanksgiving, of course, but also next Thursday, and the Thursday after that.

Want to see more photos from our dinner? Find them on my blog, Arthur & Bernie. And if you or someone you know would like to get involved with DOROT Young Professionals, tweet me @arthurandbernie.