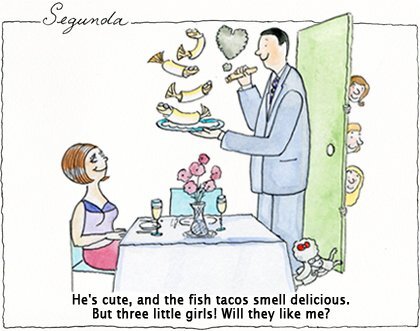 Segunda tallied your votes and, after consulting her best friend and relationship guru, Dante, took your advice and went on a date with the tall Cuban architect. The father of three's bait- Baja-style fish tacos-exceeded her expectations.
Dante's advice helped. He says that while Segunda, like I, may be 40-plus, in dating years we're not even 20-the age Segunda and I last dated-so dating someone with a similar background (Segunda and the Cuban are both divorced Hispanic foodies living in the U.S and raising bicultural daughters) can be less intimidating. Dante also cautions that while we may be older and wiser, the drama we experienced in high school, with all the emotional highs and lows, could recur. The not-always-so-divine comedy-of-dating-life doesn't have to be an inferno with friends to guide you through the flames.
So tell us, what love, dating or relationship questions do you have for Dante? Post below and he'll be sure to give you straight answers. Post your advice, too.
In the meantime, Segunda and I are following Dante's other tip: to approach this new phase as an opportunity to rekindle aspects of ourselves that have been dormant for years. Now that your'e 40-plus, do you have any interests you finally feel free to pursue?
Stay connected. You'll find out whether the fish tacos led to a second date or if Segunda discovered something fishy about the oh-so-suave Cuban. Meanwhile, she's off to the salon because, as we all know, self-care leads to self-discovery.
Un abrazo,
Gaby