A Millennial Dilemma: Decline or Accept Those Wedding Invitations?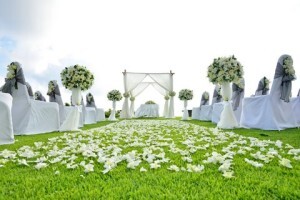 Weddings bloom in summer, and sometimes those festivities blossom all at once for boomer parents and their adult children. The average age for a bride is 29 and for a groom, 31. When the adult children of friends and family hover in that age category, we can expect many invites, sometimes too many for our budget and schedules.

The wedding day, ranging from backyard affairs to Las Vegas-style extravaganzas, isn't the only event. Engagement festivities, showers, and bachelor and bachelorette parties are typically part of what can turn into a yearlong celebration. If a son or daughter is in the wedding party, we might help a millennial on a tight budget with costs.

With expenses ranging from airfare to gifts, attending a wedding comes with an average price tag of $673, according to an American Express survey. So perhaps it's not surprising that 40 percent of Americans have declined a wedding invitation for financial reasons. "People are often torn between their checkbook and friendship," says Steven Petrow, a modern manners expert.

On top of that, our own adult children may be planning their weddings, which average $31,213 nationwide, according to a survey by TheKnot.com. No matter which side of the invitation we're on, parents — and their adult children — need to balance expectations with reality. We asked Petrow and Jamie Miles, managing editor of TheKnot.com, to offer some advice.

RSVP etiquette: The typical wedding's most costly item is the reception, which averages 136 people. So let the couple know as soon as possible and prod your adult children to do likewise. "Too many millennials can't commit and wait until the last minute to make a decision," Petrow says. And no changing your mind. "It's not good form to say yes and decline later on," he adds.

If sending regrets because of a job, which often happens with Friday weddings, make sure that's the reason, not a convenient excuse. "You don't want to post vacation pictures on Facebook when you declined because of work," Miles says.

Difficult choices are required when several weddings conflict, and often hurt feelings endure beyond the occasion. "This should not be a litmus test of friendship," Petrow says. For those who absolutely can't attend, Miles suggests sending a gift with some thought behind it (not just off the registry) and then arranging a special dinner with the couple at a later date.

Destination weddings: Nearly one-quarter of all weddings are at far-flung locales, according to TheKnot.com. Sometimes a couple will plan a destination because it keeps the numbers down. Others, however, expect family and friends to come and make a vacation out of it, cost be damned. "Destination weddings add another level of financial and time commitment," Petrow says.

Get discounts on hotels, airfare, car rentals and more — AARP Member Advantages. »

Just say "No": The pressure to attend a wedding, especially for a family member, can be compelling. Indeed more than one-third of Americans have gone into debt to attend a friend's wedding, according to a poll conducted by American Consumer Credit Counseling. Miles suggests being honest about declining for financial reasons. She was invited to a wedding in Kentucky over Memorial Day weekend. "The airfare was just too expensive, and I explained that to the groom," she says.

When it comes to planning a wedding, it can be helpful to put on that guest's hat to consider the dream versus the reality in terms of time and money. "People shouldn't go into debt to fulfill someone else's fantasy," Petrow says.

Mary W. Quigley's blog, Mothering21, tackles parenting of emerging adults and beyon

Photo: i_talay/iStock

Also of Interest:



See the AARP home page for deals, savings tips, trivia and more.