Shouldn't Parents Have Fun at Weddings, Too?
May through October is peak wedding season, and because receptions can get repetitive, bride and groom often try to make their day distinctive. Sometimes the parents of the couple, often contributing part of the $30,000 average cost of a wedding, want to put their stamp on the event, too.

But proceed with caution. There's a good reason for those traditional rules of etiquette for the parents, says wedding planner Sandy Malone, the star of TLC's "Wedding Island" reality show. "It's not your day," she says, "no matter what you paid for it."

Malone has even compiled a list of Top 10 Don'ts for Mothers, including "Don't try to steal the show or the photographer" and "Never forget that you're a parent, not 'one of the kids.'" She cautions dads to remember that a "toast is not a roast" and to limit the drinks.

>> Sign up for the AARP Money newsletter

Still, she says, "There are ways parents can participate without hijacking the wedding." Choreographed dances for mothers with the groom and fathers with the bride have become increasingly popular, especially a medley of dance styles from from the Pony to MC Hammer.


One of Malone's bride's practiced her dance medley for months via Skype because the dad lived in Australia.


TheKnot.com recently surveyed brides-to-be and asked how parents could enhance the event. The answers echoed Malone's advice. "Feedback from brides was that they appreciated help but [wanted parents to] remember it's their wedding," says Jamie Miles, the website's editor. "They had plenty of examples of parents being too pushy."

>> Get travel discounts with your AARP Member Advantages.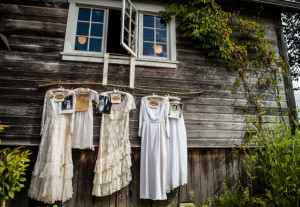 Among the ways of honoring the families that has become popular, Miles says, is a display of heirloom wedding dresses worn by a couple's mothers and grandmothers. Other brides exhibit wedding pictures of older generations or make family-tree centerpieces for the tables.

Sometimes the bride and groom turn the tables and surprise the parents. Debbie, a Long Island mom, had been turned down twice in her request for "You Are the Sunshine of My Life" for the traditional mother-son dance. But at her third son's wedding reception, the band started the Stevie Wonder song, the dance floor cleared and then each of her four sons danced with her in age order from 34 to 25.

"I was so surprised and confused at first and then I just cried and cried," she wrote in an email. "It was surreal and emotional and fun! Many guests were quite moved as well. It was truly memorable!"

Mary W. Quigley's blog, Mothering21, tackles parenting of emerging adults and beyond.



Photo: Anda Photography/courtesy of TheKnot.com



Also of Interest



See the AARP home page for deals, savings tips, trivia and more