What Exactly Is Your Adult Child's Job?
In 1993, we celebrated the first Take Your Daughter to Work Day. But have you ever wondered what your kid does in a job that perhaps didn't exist five years ago? What exactly is a social media manager, a data scientist or even an actuary?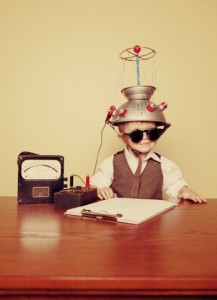 The answer will be offered Nov. 6 at Bring In Your Parents Day, an event sponsored and promoted by LinkedIn at 28 companies in 14 countries. While Google was the first firm to sponsor a similar event in 2012, the day has expanded to other companies, including Virgin Group, SAP, British Airways, Leo Burnett and Northwestern Mutual.

>> 10 Growing Job Fields

The program originated in LinkedIn's London office, where Canadian transplant Danielle Restivo works. Her "mum" back home had emailed Restivo, noting that while she was proud of her accomplishments, she had no idea what she did as "global public relations manager." Her mother wanted a bullet-point list that she could print out and carry in her purse to share with friends.

Restivo chatted with coworkers who agreed that their parents "are proud but don't know what they're proud of, because many of us have jobs that didn't exist when they were working." An idea was born and tested in 2013 in LinkedIn's Dublin office, with 100 parents showing up to learn more about their kids' jobs.

Last year in the company's Manhattan office, Amy Whitford-Stark, a senior relationship manager, invited her mother, a retired earth science teacher, to listen as she made a business call so that her mom could understand more about what she does. Whitford-Stark helps clients develop online recruiting strategies. Years ago, her mom had found her own job as a teacher the old-fashioned way: through a newspaper's classified ad. "It was extremely important to me for her to see me in my environment, see me in action and to have her be proud of me."

A LinkedIn survey found that 35 percent of parents are not completely familiar with what their children do for a living, and 50 percent thought they could offer suggestions if they understood the job better.

"Your parents have all this great advice they can give you," Restivo says. "They've had professional careers, many still consulting and still working. But if they don't know what you do, they are not in a position to give you any advice."

If you go to your child's office, does it make you look like a helicopter parent? Actually, it makes you look like an involved parent, says consultant Haydn Shaw, and companies know that "parents have a big impact on hiring and retention."

In some ways, the day is the adult version of back-to-school night. Parents get to see the desk, the workplace, the coworkers and the supervisors — and put a face to the name when their kids complain or compliment a colleague or boss. "You definitely can pick up a vibe about the people and the place when you're there," says Shaw, author of Sticking Points, about the multigenerational workplace.

>> Get travel discounts with your AARP Member Advantages.

Maybe most important, he says, is that the event can signal a step forward in the parent-adult child relationship. "For most of our lives, we parents have been leading our kids through our world," Shaw says. "This signifies a new kind of relationship where they begin to walk us through their world."

Now if we could only get invited!

Mary W. Quigley's blog, Mothering21, tackles parenting of emerging adults and beyond.
Photo: RichVintage/iStock
Also of Interest

See the AARP home page for deals, savings tips, trivia and more.