Why Your Adult Children Suffer From Anxiety in College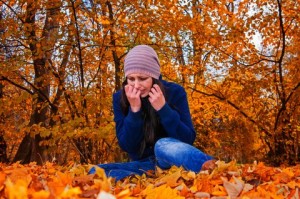 October at colleges and universities may evoke images of falling leaves and football games, but midsemester exams bring a spike in anxiety, the No. 1 mental health problem on campuses.

Midterms are not the only reason for anxiety, which causes students to feel overwhelmed and stressed. Most college professors share tales of students' missed deadlines, classes and assignments, all because of anxiety. A friend told of a student who was in danger of failing because of multiple missed assignments yet was so anxious that she couldn't even open emails from the professor.

12 foods that can help you sleep »

More than half the students seeking help at campus clinics report anxiety as an issue, according to a recent study of 100,000 students by the Center for Collegiate Mental Health at Penn State University. Anxiety has surpassed depression, which is No. 2, followed by stress, family issues and academic performance as the top reasons students seek help from campus counseling centers. Although many centers have added staff, sometimes the demand is so large that there are weeklong waits for appointments, the Wall Street Journal reported.

The reasons for the increased demand are varied. One cause is that students are more open to ask for help, says Ben Locke, associate director of clinical services at Penn State and the lead author of the report. Over the past few years, in response to concern about suicides, colleges have encouraged students to seek help by reaching out to them. While the number of suicide attempts has remained level in the past five years, Locke says, students now more frequently talk openly on social media and to family and friends about harming themselves. "There's reduced stigma about talking about self-injury or having suicidal thoughts than there used to be," Locke says. "The community has to respond as if it is actual threat rather than as expression of distress."

Of course, most of the students seeking help are not suicidal but are having difficulty coping with the stresses of college. So why does college seems so much more stressful for these students than it was for their parents and grandparents?

Read the latest discoveries, exercise and memory-sharpening tips, health care reform and more! — AARP Health Newsletter »

One theory is that college students were raised with super-scheduled lives, starting in nursery school. Add in heightened competition to get into college — and figuring out a way to pay for it — and then career worries postrecession. "This generation of students has been running fast their whole lives, and that takes a toll. They are overwhelmed and overloaded," says Micky M. Sharma, president of the Association for University and College Counseling Center Directors and director of counseling services at Ohio State University. "They get to college, and that safety and support system from home is not there. Often their coping and resiliency is not as strong as we would like it to be."

That home support system was often in the form of helicopter parents who solved all of their children's problems. Come college, students are confronted with the roommate from hell, demanding courses, a social life on steroids and every move documented on Facebook, Instagram and Snapchat. The constant use of social media creates its own anxiety problems, with young adults comparing themselves to the smoke-and-mirrors images presented by their 500-plus Facebook friends. There's even a name for that anxiety: FOMO, or fear of missing out.

So what happens when there's a problem? They text Mom and Dad, expecting an immediate solution. Even if parents don't solve the problem, the fact that technology provides an instant access means that they don't have to suffer in silence. A generation ago, students couldn't tap into an on-demand support system. "The time lag forced them to cope and develop resilience," Locke says.

Get discounts on prescriptions, health exams, eye care and more — AARP Member Advantages »

While it's too late for us to learn from the best-seller The Gift of Failure, aimed at parents of young children, we can still do as Sharma suggests and simply extend empathy — not solutions — when our adult children struggle. "We need to allow them to make their own decisions, even if a decision isn't the best one, so they fall a little and then get back up and learn from it," he says.


Mary W. Quigley's blog, Mothering21, tackles parenting of emerging adults and beyond.

Photo: Badahos/iStock

Also of Interest:



See the AARP home page for deals, savings tips, trivia and more.