Why Your College Grad Moved Back Home
At a party last weekend, I met a new college grad who had just moved back home. His plans: a camp counselor job this summer followed by a teaching assistant job come fall. Over the next year or so he plans to save money and figure out his future; maybe an M.S. in social work or a Ph.D. in psychology. He was looking forward to reconnecting with his parents after four years away. "It's the last time I'll live at home with them," he said wistfully.
>> Sign up for the AARP Money newsletter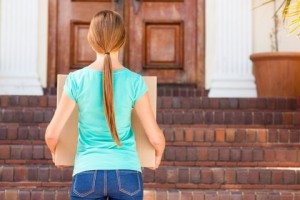 This young man joins more than 21 million millennials living at home, the highest percentage of young adults in their parents' nest in four decades. On Sunday a New York Times article dissected this trend. "These boomerang kids are not a temporary phenomenon," noted "It's Official: The Boomerang Kids Won't Leave." "They appear to be part of a new and permanent life stage ... It's so new, in fact, that most boomerang kids and their parents are still struggling to make sense of it. Is living with your parents a sign, as it once was, of failure? Or is it a practical, long-term financial move?"
Of course, whether it's a smart move depends on the reasons for the return, as many of the 1,600 comments on the article pointed out. Some millennials move home as a safe haven from which to plot their next move. Others return because of crushing student debt or are under- or unemployed or can't decide on a career or want to maintain a certain lifestyle that they can't afford without subsidy. Some a combination of all of the above!
Whatever the reason, boomeranging Millennials and parents need to adjust to a new normal. This is a not a college kid home for summer vacation.
>> Get travel discounts with your AARP Member Advantages.

If there are younger siblings, the family dynamics changed while the grad was at college. Everyone needs to recalibrate their lifestyles and share the car, kitchen, bedroom and TV. If the parents are empty nesters, their privacy is poof! Empty nesters or not, parents of boomerang kids face higher food bills and other household costs, the psychological toll of worrying whether the child will ever get a decent job and the task of figuring new rules for living together.
While making these adjustments, parents need to keep in mind that eventually most young adults will likely find a job, get their own place and move out. Enjoy the boomerang interlude because, as the young man noted, it's the last time they'll live at home. Once they leave again you too might be wistful.
Mary W. Quigley's blog, Mothering21, tackles parenting of emerging adults and beyond.
Photo: Neustockimages/iStock
Also of Interest

See the AARP home page for deals, savings tips, trivia and more