Social Security Celebrates 81 Years!
By John Hishta, August 14, 2016 09:00 AM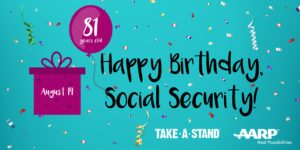 Today, Social Security turns 81 years old.

That's a birthday we celebrate with pride — and I hope you take a minute to sign our birthday card! But it's also a timely reminder that action is needed. If our leaders fail to update Social Security, future retirees could face benefit cuts of nearly 25 percent.

Think about that!

A cut that large would send shock waves around the country. It would hurt millions of people and push many into poverty. It would take away money people need for food, health care and utilities, putting a painful squeeze on households.

Our political leaders should never let that happen.

Yet Social Security's official trustees have reported that many younger workers could face cutbacks of nearly 25 percent when they retire, unless our leaders take action to prevent it.

AARP recently analyzed the impact of a nearly 25 percent cut in Social Security benefits on America's 65-plus population as a glimpse into what could happen to future retirees.

And the findings are shocking. I can't think of a stronger way to show that politicians have to stop kicking the "Social Security can" down the road and start getting real about keeping the program financially sound to ensure the benefits we count on.

AARP's analysis shows that future across-the-board reductions would lead to:



A $4,400 plunge in the average annual income of retirees, and much more in many cases.
An increase of 66 percent in the poverty rate among older Americans; 2.6 million seniors would fall under the poverty line.
A benefit cut of up to $10,000 annually for retirees with higher earnings.


Right now, 170 million hardworking Americans pay into the program, and it is one of America's great success stories. But at age 81, Social Security requires some updating so we can keep the promise to these workers, not to mention our kids and grandchildren.

That's why AARP launched Take a Stand. Our volunteers around the country are urging presidential candidates to deal with Social Security and make their plans clear, so voters know exactly where they stand.

We've heard a bit from Hillary Clinton and Donald Trump, but we want to hear more.

In the coming weeks and months, Take a Stand will continue to press the presidential candidates to level with the public on exactly what they have in mind for Social Security, and how people like you and me would be affected.

Voters deserve real answers.

We urge our leaders to dispense with the partisan feuding we see so often in Washington and tackle this issue in a constructive spirit.

On the occasion of Social Security's 81st birthday, that would be a great gift to the American people.



John Hishta is the AARP senior vice president of campaigns. Follow him on Twitter @jhishta.