Taking a Stand for Social Security
By John Hishta, December 03, 2015 12:25 PM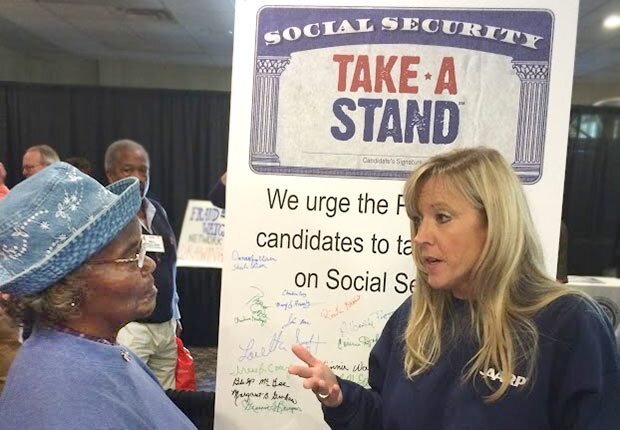 Social Security hasn't gotten much attention yet in the presidential campaign.
But we aim to change that. A growing cadre of AARP volunteers and concerned citizens is calling on every presidential hopeful to lay out a plan to keep the promise of Social Security for future generations.
We call our new effort Take a Stand. I'm helping run it, and I recently traveled to the early battleground states of Iowa and South Carolina to see how it was faring. What I saw was very encouraging. Committed volunteers are now working day and night — organizing meetings, making phone calls, handing out materials and asking about Social Security at political events.
Take a Stand. Get the latest information about who has a plan for Social Security »
The people we chat with — particularly AARP members — are very receptive to our message. A dedicated volunteer in South Carolina made 180 calls in a single day. Amid predictions of the first snowfall, dedicated Iowans gathered in homes and public libraries to share information and recruit others for our cause. Volunteers are also active in New Hampshire, and we plan to broaden the effort to other states, as the election season rolls ahead.
For now, most of our work is taking place under the radar of news coverage. But we're just getting started. Our goal is to get the candidates to go beyond lip service and tell us what they would really do to update Social Security and keep it financially sound. We've created a Take a Stand website to highlight the candidates' plans. We are not taking sides (yet) — but we are calling out those candidates who have not yet offered a position on this important issue.
If political leaders fail to act, retirees could lose up to $10,000 a year in benefits starting around 2034. The longer they wait to act, the harder it becomes to reach an agreement, and the less time workers will have to prepare.
So a great deal is at stake. But the reality is that there will be no progress on Social Security without presidential leadership. That's why Take a Stand is working so hard to put the spotlight on individuals who seek the White House.
Social Security benefits calculator: At what age will you claim your benefits? »
You can find out each candidate's position on Social Security (or lack of one) by visiting our website. Once there, you can send candidates an email with your thoughts on their approach.
In the coming weeks and months, I will report periodically on the progress of our effort. Every candidate needs to Take a Stand on Social Security.
John Hishta is the AARP senior vice president of campaigns. Follow him on Twitter @jhishta.
Photo: Randy Moore
Also of Interest

See the AARP home page for deals, savings tips, trivia and more.