6 Mobile Apps to Help You Get Organized
By Suzie Mitchell, December 30, 2013 12:29 PM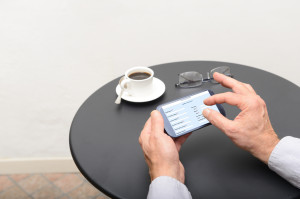 Getting more organized and living healthier are classic New Year's resolutions. If you're like me, you need all the help you can get. Here are six mobile apps that can help. While they aren't marketed specifically to the 50+ audience, I've found reasons they can make our lives easier. I use them all regularly. They are free and available on iPhone or Android.

To stay organized

Manilla-- is a free service that lets you manage and organize your bills and accounts all in one place online or via its mobile app. You only need one password to access all of your household accounts, including your finances, utilities, travel rewards, subscriptions, daily deals and more. Friendly reminders and custom alerts are pluses.

Why it's cool for 50+: You can also easily manage your loved one's financial accounts from your computer, tablet or smartphone. All bills with automatic reminders are delivered to one email address and stored in one place.


KeyRing-- is a free mobile app that can house all of your loyalty cards in one place. It also offers exclusive KeyRing holder coupons and discounts. No more key chains or wallets filled with store loyalty cards. Just scan the card and it's stored, complete with the weekly newspaper coupon flyers and a place for shopping list.

Why it's cool for 50+: Who among us doesn't like a deal?


>> Sign up for the AARP Health Newsletter

PaperKarma-- lets you take photos of any unwanted snail mail you want to stop. You take a photo of the piece of mail with your smartphone and PaperKarma contacts the sender to remove you from their distribution list. PaperKarma promises to stop most unwanted mail that is addressed directly to you. In about 24 hours you'll receive a notification that you've been unsubscribed.

Why it's cool for 50+: In addition to reducing your junk mail, you can limit your parent's junk mail, minimizing the chances they may sign up for multiple subscriptions or other items they don't really want.


To Stay Healthy

Care4Today-- a free, secure, mobile app and website to help users stay on their medicine schedules. Users log in their meds, dosages, and schedule times and are sent text alerts as reminders. Reports are automatically generated if users took their meds and checked it off the lists or forgot. What separates this app from the other medicine reminders on the market is its two-way messaging system that allows medication reports to be emailed to others.

Why it's cool for 50+: Caregivers, family members and medical professionals can be alerted when patients miss their meds, making intervention even at a distance quicker.


MyMedical-- is a comprehensive record-keeping app for personal medical information. No more paper. Fill out your medical history over the web on a secure site and the information is emailed to you for easy upload to the app. All my tests, mediations, immunizations, allergies, hospitalizations, health insurance, advance directives, blood type, office visits and family history are stored in one place.

Why it's cool for 50+: No more paper lists to take to doctor's appointments. And, for $1.99 you can upgrade to the premium edition and keep your entire family's records on your smart phone or tablet. Great tool for caregivers.


AchieveMint-- gives users cash rewards for doing and sharing your healthy activities. Register through your computer or mobile app, connect with AchieveMint partner apps (like Fitbit, Foursquare, Map My Fitness, Twitter, Facebook, etc.) and earn points for doing and sharing healthy actions and thoughts. For example, every time I check into my gym on Foursquare I earn points. Or if I walk using my Fitbit or share a healthy recipe on Facebook or Twitter I earn points. I receive weekly emails informing me how close I am to earning my reward. Just 500 more points and I earn a $50 cash reward card.

Why it's cool for 50+: It encourages us to use digital health devices to keep fit and rewards us with cash for healthy behavior.


>> Get travel discounts with your AARP Member Advantages.

Do you have an app that makes life easier? Please share in the comments section.

Photo: Lisa-Blue (iStockphoto)



Also of Interest



See the AARP home page for deals, savings tips, trivia and more