Prepare your Facebook Security Settings for New Search
By Jen Reeves, January 16, 2013 06:37 PM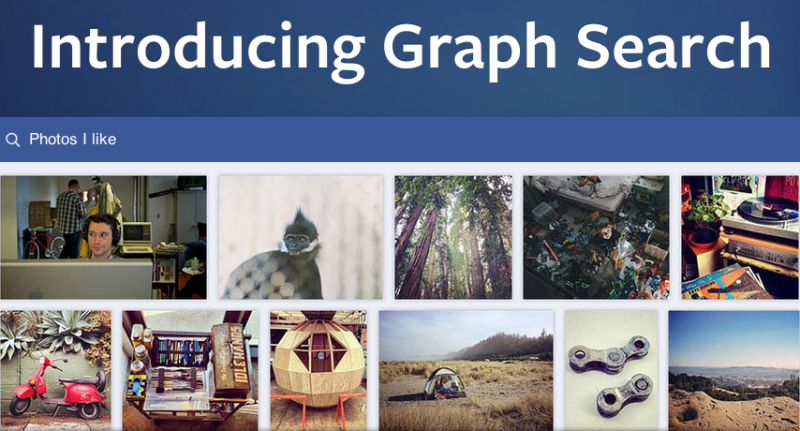 Facebook announced this week it will make it a lot easier to search your personal page along with all of your friends. It's called the Facebook Graph Search. While this announcement does not change your privacy settings on Facebook, it means if you've ignored your privacy settings, now is a really good time to check it out. (Facebook wrote up more details about how privacy works with the new search.)
Facebook says the graph search will take already existing information inside the social network and make it a lot easier to find. If you want to find a friend who likes dogs and lives in New York, Facebook will find those people. If you want to see photos your friends shared of food from diners, Facebook will find those images. That means the content you have posted in the past will turn up a lot easier. That's why it's a good time to look at how you've used Facebook in the past and make sure you are happy with what people find out about you when they search Facebook.
If you have never really looked at your Facebook privacy settings, let's go through some of the basics to help you know what people can and cannot see, whether they are a friend or just a random person visiting your personal page.
Views from the public
You have a public page. Every person who has a Facebook page has its own link or URL. Depending on your privacy settings, the public can see none, some or all of your information when they visit your page. Here's how you find your public setting. I'll use my Facebook page as an example. Look for the little gear box in the right hand corner just below your cover photo.


The little gear box give you an option to "View As" and check your "Timeline settings." Let's do "View As" first. Facebook lets you know at the top that you're viewing your page from the public. You can also view the page as a specific person. This is helpful if you have categorized different friends with different privacy settings.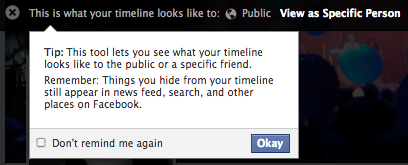 If you do not like what is viewed from the public, you can go into your Timeline Settings and make some changes. You can also update each section of your About Me page (there's an edit box in the top right corner of each section) to decide what is public and what is not.

Now that you have seen what your page looks like from the public view, the next step is to analyze what your friends can see.

Views from your friends
The new graph search will allow your friends to search information about you based on your page likes, locations, photo tags and even the music you listen to on Spotify.

The best way to analyze what your friends can see is by looking at your Activity Log. You can find your personal activity log right next to the button you clicked on to find your public settings.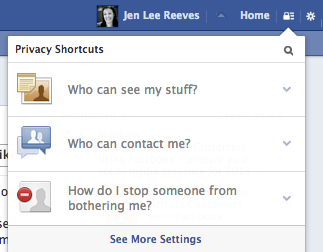 If you joined Facebook a long time ago, I have good and bad news for you. The good news? Facebook did not archive a lot of your posts until 2007. The bad news? It can take time to search all of your posts from the past. If you are unsure about the choices you have made in previous years, it may be worth undergoing a tedious analysis of your Facebook activity.
You can visit your Timeline Controls to decide if you want to mass-limit your posts. Facebook also has a number of guides that explain how to share, tag posts and photos, post your location, and use apps.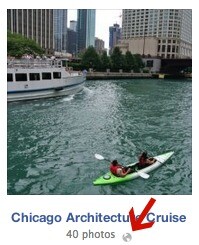 Photo privacy
If you are concerned about the privacy on your photo albums, you need to go into your photo page and view your albums. Each album has a privacy setting. You can click on the little icon next to the name of your album (you can see what it looks like with my photo on the right from our Chicago Architecture Cruise). Clicking on the little icon helps you decide who can or cannot see your photos. If you see a little globe, that means it's all public. Remember, your cover photos are always public. Also, if you posted pictures from other apps, like Instagram or Flickr, each of those photos will have individual privacy settings. You may need to go through each photo in those albums if you are concerned.
Like privacy
There is no quick way to go through all of the pages you have liked on Facebook. But if there's any time to analyze it, this is the time. If you go to your personal Facebook page, you'll find your "Likes" in a box just under your cover photo. Click on an edit box to look through some topics like music, books and movies to quickly delete extras you may not like any more. But to get really deep into the many pages you have liked, you have to search through the entire list. Facebook started collecting your page likes in 2008.


Application privacy
If you have connected your Facebook account to other websites, you may want to think again. Your activity on those other sites can be analyzed using the new Graph Search. If you aren't sure what sites you have connected to Facebook, you can visit your App Settings page. While you are there, you can choose to remove apps. When you click to remove the app, a box pops up to confirm you want to remove it. You also have an opportunity to remove all of the information that website may have posted to your Facebook account.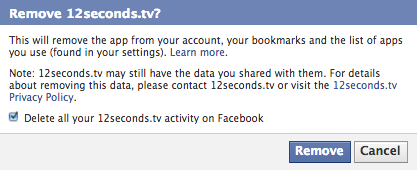 If you click on the top "Edit" link, you can choose to turn off the Facebook app option. This will prevent using Facebook to sign into any website. But it will also prevent Facebook from using information from the apps in its search.
JEN'S SOCIAL MEDIA TIP: Once Facebook's graph search is open to the public, the information you have already shared in the past is just more searchable. This is not a bad thing! It's just something important to be aware of once it is accessible to everyone. (You can sign up to get access to Facebook's new search by joining the waiting list at the bottom of the Graph Search about page.) If you know your opinions have changed since you've joined Facebook, now is a really good time to dig in and clean up. It may take time, but it may ease your mind about what people find out when they search topics and find your name attached to it.
As always, think before you post.