Walking Through a Year of Black History
It's one thing to celebrate Black History Month. But when the organization founded by the father of Black history kicks off its 100th anniversary with an issues forum at the White House, led by America's first Black president, that's a Black history moment worth noting.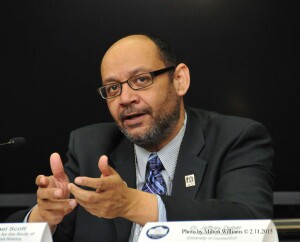 That was the occasion on Feb. 11 as the Association for the Study of African American Life and History (ASALH) had a celebratory Black History Month forum at the White House. As panelists discussed the eventual legacy of President Barack Obama, they also underscored several major anniversaries in coming months. We've begun a year of Black history.
First, I salute ASALH for its leadership over the past 100 years. The centennial celebration of ASALH, founded by Carter G. Woodson, will actually be held at a luncheon Feb. 28. ASALH President Daryl Scott will give the keynote speech. The theme for the year is "A Century of Black Life, History and Culture."
That theme is illustrated by several pivotal events that demonstrate the true resilience and incredible fortitude of Black people in America from slavery to freedom and beyond.
Of course, among these notable landmarks is the 50th anniversary of "Bloody Sunday," March 7, 2015. That was the Selma-to-Montgomery demonstration during which members of the Student Nonviolent Coordinating Committee, including now-Rep. John Lewis, were attacked and severely beaten by Alabama state troopers as they attempted to march for voting rights across the Edmund Pettus Bridge.
Then, after the televised Bloody Sunday touched the heart of America, came the passage and signing of the Voting Rights Act at the behest of President Lyndon B. Johnson. He signed it into law on Aug. 6, 1965 — yet another 50th anniversary.
Meanwhile, the White House has confirmed that President Obama will visit Selma on March 7 to commemorate the historic Bloody Sunday march. This will no doubt be a high moment in Black history as well as American history. The presidency of Barack Obama as the first African American to hold the office is widely viewed as a symbol of voting power and a culmination of the long struggle by those who fought and the thousands who died for freedom.
But as with every anniversary, this is not only a moment to note, but a moment to renew and forge ahead. President Obama said it best in this year's Black History Month proclamation: "We pause to reflect on our progress and our history — not only to remember, but also to acknowledge our unfinished work. We reject the false notion that our challenges lie only in the past and we recommit to advancing what has been left undone."
AARP helps people turn their goals and dreams into real possibilities, strengthens communities and fights for and equips Americans 50 and older to live their best lives. Discover all the ways AARP can help you, your family and your community at AARP Black Community.
Photo: Milton Williams Photography
Also of Interest

See the AARP home page for deals, savings tips, trivia and more